Halloween is fast approaching once again -- and if you're like most business owners, the last thing you need is a genuine scare that affects your IT system. It's time for your friendly Austin IT support team at Gravity Systems to point out some of the more frightening threats that might keep you up at night, and how we can help you protect your company against them this October (and every October).
Software gremlins - Has your software become "spooked" so that different programs no longer talk to each other or perform as intended? You might be struggling with an incompatibility issue related to aging applications, incorrect settings, or indefinable ghosts in the machine. We can examine your computers through our remote connection to find and fix little inconsistencies -- or we can help you select new and better software for your changing needs.
Malware demons - Is your IT system possessed by demons in the form of viruses, Trojans and other unwanted malware? These intruders can wreak havoc on your productivity, endanger your privacy, and even facilitate outright theft. Gravity Systems can exorcise these demons from your system while also beefing up your security measures to keep the bad guys at bay,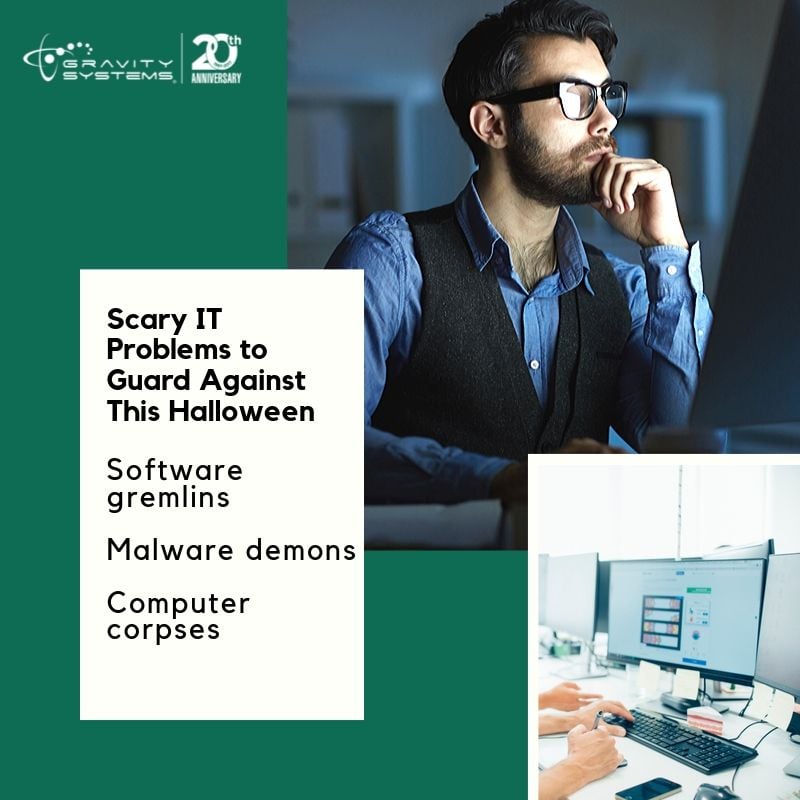 Computer corpses - Nothing will put a chill down your spine like seeing a hardware graveyard where a healthy, productive computer network is supposed to be. If you're losing workstations, servers or other components due to old age, electrical issues, or premature wear and tear, you'll want to call our team. We can help you say your final farewells to that dead hardware and install new components to bring your IT system back to life.
Don't play trick or treat with your business's data, equipment and productivity. Contact us to learn more about how Gravity Systems can make your Halloween less scary!