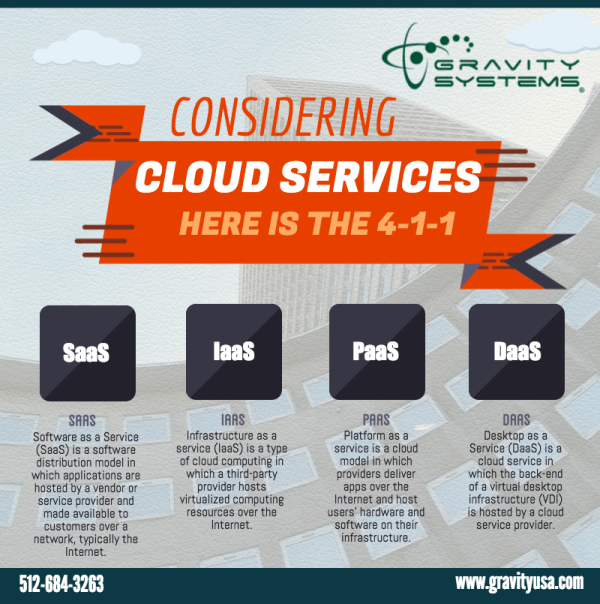 The features of cloud computing are expanding rapidly. Coupled with larger Internet bandwidth availability, cloud computing is a more viable option in a company's IT strategy. Software as a Service (SaaS), Infrastructure as a Service (IaaS), Platform as a Service (PaaS), and Desktop as a Service (DaaS) are all prevalent offerings in the "On-Demand" space. If you are planning to position portions of your IT system in the Cloud, here are some things to know:
Do you need Cloud services?
The answer to this question is often not a simple yes or no. In many cases, organizations can make effective use of the Cloud services for some systems, such as email, spam filtering, or website hosting.
Things become a little more involved when you start looking at hosted desktops or ERP systems. Businesses whose employees all work from a single office with little or no remote access requirements are typically best served by running their software on local servers and computers. On the other hand, if you have employees distributed among multiple offices or your number of employees changes regularly, hosted software or desktops may be beneficial.
What are some common Cloud services?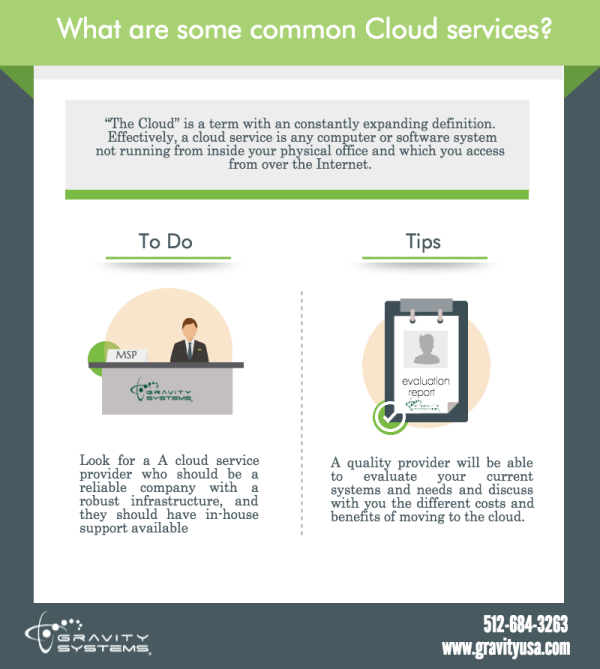 "The Cloud" is a term with an constantly expanding definition. Effectively, a cloud service is any computer or software system not running from inside your physical office and which you access from over the Internet. Software as a Service, or SaaS, is one of the older and most common delivery models of the Cloud. Salesforce.com is an example of SaaS. The SaaS provider provides a software product that is accessed over the Internet and they take care of the maintenance and configuration of the systems required to make it work. These products are relatively easy to adopt, add/remove accounts, and access from multiple locations.
Desktop as a Service, or DaaS, essentially provides a full computer desktop experience via a thin client, web application, or RDP connection. These desktops often run virtually on a hosted infrastructure, and they can be created dynamically based on demand. This scalability is appealing for organizations whose employee counts change on a regular basis, or who don't have a central location or office (all employees work from the "field").
Platform as a Service (PaaS) and Infrastructure as a Service (IaaS) give more latitude and control to an organization running their systems in the Cloud. These models leverage the datacenter resources of large cloud providers such as Amazon, Rackspace, or Microsoft's Azure. A company can spin up a new application server or add additional web servers if they see a peak in demand. This option also allows for the most flexibility, as more control is given to the individual customer. Most of these services are geared towards larger and corporate customers.
Cloud services are not always public or owned by third party companies. Some companies build and control their own cloud infrastructure. This can be done using a company's own datacenter, PaaS and Iaas providers, or a combination of both. A "colo", or co-location facility is one of the most common ways to put some company resources in the cloud. By using this kind of hybrid cloud, the employees inside the main office can access the ERP, CRM, and HRM systems through a local connection while remote and distributed employees use the Internet connection.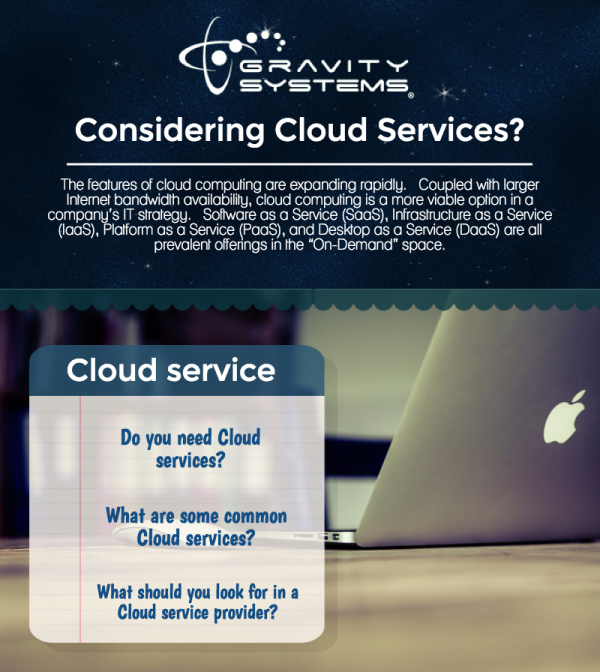 What should you look for in a Cloud service provider?
A cloud service provider should be a reliable company with a robust infrastructure, and they should have in-house support available. A quality provider will be able to evaluate your current systems and needs and discuss with you the different costs and benefits of moving to the cloud. With the many things to consider before moving to the cloud, it's helpful to have a comprehensive consultation. Gravity Systems can help you look through the options and see what is best for your business.