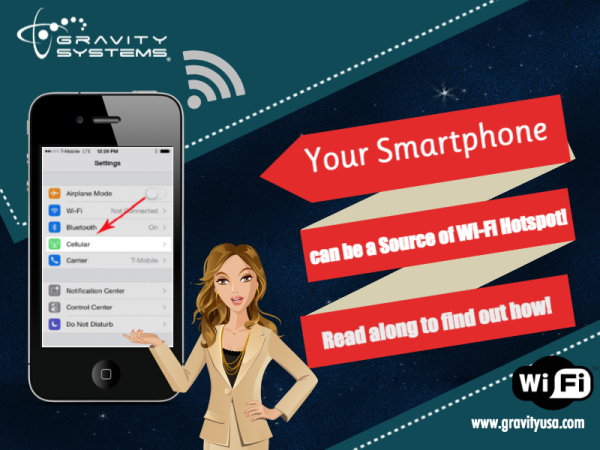 If your internet connection goes out, your cell phone wireless connection can come to your rescue. Almost all Smartphones have "Wi-Fi tethering" or hotspot access and it can be used to access internet from your laptop or tablet. The process is different for each platform. The most common cell phone platforms are IOS, Android and Windows. This post helps you to understand the methods of setting up Wi-Fi tethering.
Tethering can be defined as a process of connecting devices like a laptop or a tablet to your cell phone and accessing the Internet through that particular phone's cellular data. Tethering can also be used to get your entire network access to the Internet (contact us for details…this is a little more complex). With tethering access to Wi-Fi has become much simpler and faster.
Cellular data speeds and terms vary by plan and so does tethering. Ensure you have a good tethering plan to reduce unexpected charges and overage fees. Many plans have a data use cap, which we are not used to dealing with in the US. Basically, the cellular company tracks your usage and bills you if you go over a set amount of data. Since one large download (a movie, for example) can push you over the edge, it is a good idea to check with your provider on their limitations before starting to use your plan for tethering.
Different platforms have different methods of setting up Wi-Fi tethering. Let's start with IOS:
For an iPhone, the general steps are Settings> Cellular> Personal Hotspot
Many users appreciate the iPhone operating system, as it gives you pretty clear on-screen instructions on connecting any device to your cell phone. Ensure that your cell phone is discoverable and use the randomly generated password to access internet from any device on your smart phone. If you want to change the password, click on the password and give your password as shown below: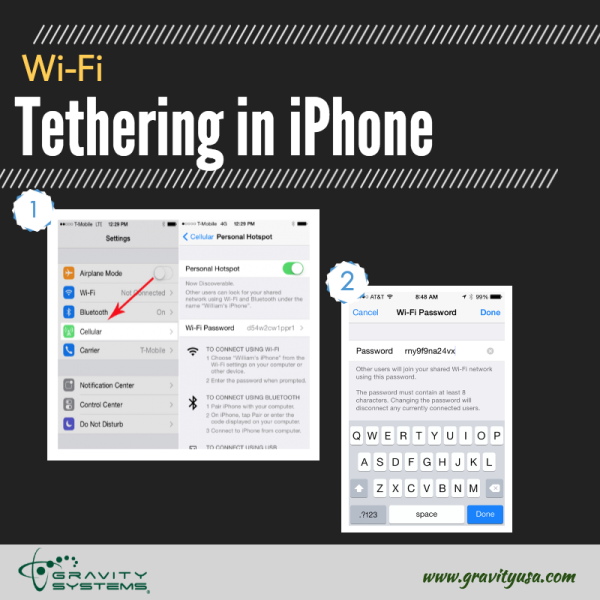 Wi-Fi tethering for an Android phone
On almost all android smartphones, tethering can be accessed by going along the following options: Settings> More> Wireless and Networks> Tethering and Portable Hotspot as shown in the figure below: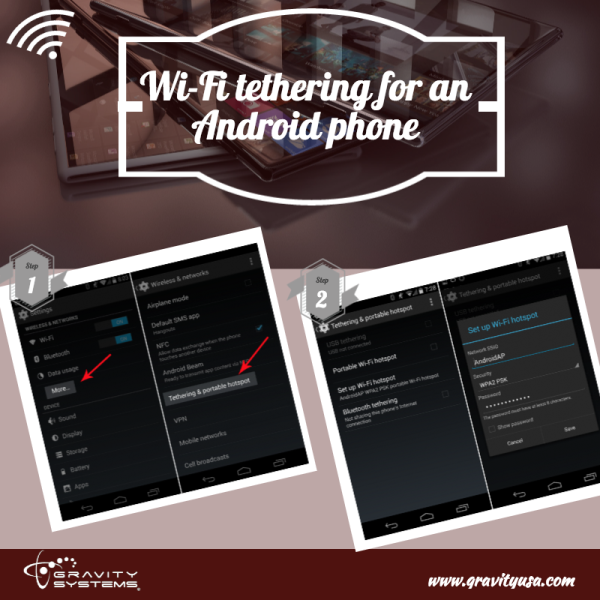 The user interface may vary from phone to phone and by operating system version, but once you reach the Tethering and Portable Options, you are good to go.
You can see various options once you are in the tethering screen. From here you can choose what is convenient for you and set up Wi-Fi connectivity. In default, the name is set to "AndroidAP" which can be changed. Similarly the password can also be changed to something easy to remember.
Tethering for a windows phone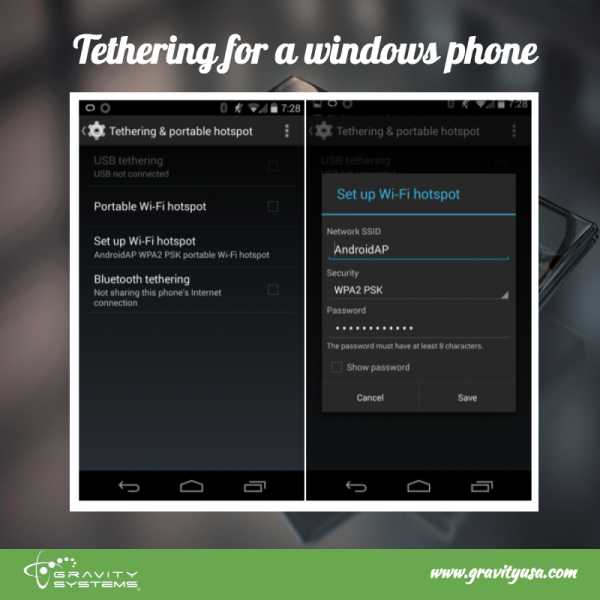 In this example, we will us a phone running Windows Phone 8.1. To set up Wi-Fi tethering, go to the following options: Settings> Internet Sharing> (Flip) Share on. Click on your phone's name and change the name and password accordingly.

Personal Hotspots can come to the rescue when you are out of the office and need to access the Internet on a laptop of tablet. It is very convenient for those who travel a lot. In fact, Kent with Gravity Systems used a cellular tether to work for five hours straight during the drive on a recent trip. With Wi-Fi tethering, you can work from any place with data service and still be connected on all of your devices. For more information and help with all your IT issues,check out Gravity Systems, the best IT support services in Austin Texas, Phoenix Arizona and Houston Texas!