PC problems are unavoidable. Whether you own a new laptop or have a decade-old PC at your workplace, you are most likely going to face some or other problem almost every day. In this blog post, we are going to highlight some such issues and will guide you on how you can resolve them.
Slow PC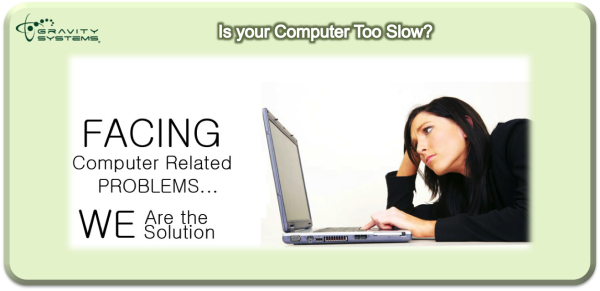 This is the most common problem that you may face. Slow PCs can severely affect your productivity. Here is what you should do when you think your PC is not running optimally:
First, find out if your PC is actually slow. If the downloads are slow or if a specific website is taking time to download, it could be a broadband problem. Do a speed test to diagnose slow connection.
If you think the problem is with your PC, diagnose the hard drive. It should have plenty of free space to let the system operate smoothly. If it is almost full, your PC will not work properly. It requires a lot of free space to create new files and operate smoothly. Clear some space and see if it is making any difference to its performance.
If it boots slowly, it could be because of applications. Many of them have a default setting of getting launched when the system gets started. This could affect its performance. Trim the start-up items and uninstall unwanted applications. To clear the start-up items, press windows-R, type msconfig, and press enter. Disable the programs that you think are killing your PC's performance. If you are not sure about an application, do not disable it. Contact your technician for help.
Frequent and sudden restarting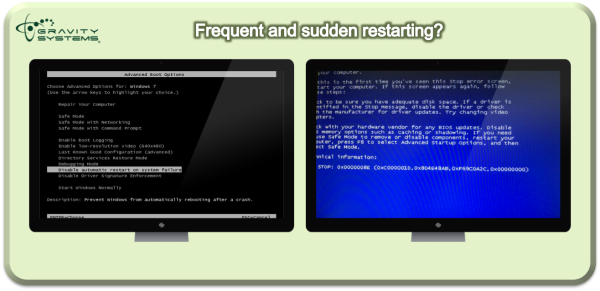 PCs restart automatically when an application is updated. Check if you have enabled automatic windows updates. If yes, disable it. Your system restarts every time an application is updated and this could be irritating. By disabling updates, you would be able to resolve this problem.

Your PC will restart whenever it gets overheated. To resolve this issue, clean the machine thoroughly and regularly. Dust and dirt can block the heat from escaping into the air. By cleaning it, you will be able to keep your machine cool.
If you are into a profession where you need to run resource-intensive programs, videos, and even video games, make sure you give your machine frequent breaks. This will help avoid overheating, one of the main reason for system restarts.
If you still face the problem, contact your technical support team. Sometimes viruses and adware can also cause your system to restart suddenly. They will diagnose your system and will be able to fix it.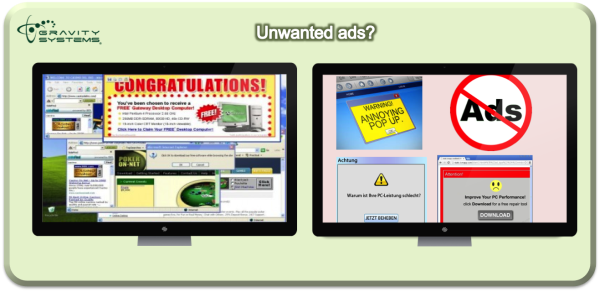 If you are using a genuine and updated anti-virus, you are most likely not going to face this issue. However, if you have an expired anti-virus, you may start getting unwanted pop-ups even on your desktops. Such pop-ups are mostly unwanted ads and are displayed because of an adware that might have been installed mistakenly. To get rid of this problem, you have to get this adware uninstalled. This is not going to be easy. You will find it very difficult to identify the adware correctly. The PC cleaning software may not be of any use. Scan your PC thoroughly and see if it helps. If nothing helps, seek professional help. May be, you have to get your system completely reinstalled
We hope this blog helps you deal with common PC issues. In our next blog, we will discuss more. Also if you want to get in touch with us then please log on to our website for further information, www.GravityUSA.com