If you've ever suffered an Internet outage in your home, you probably grumbled and cursed your way through the day until the connection was restored and you could get back to your everyday digital tasks. As annoying as that scenario may be, it's nothing compared to the nightmare of losing hours of precious productivity time due to an outage at your workplace. Fortunately, there's a simple, smart way to prevent the issue from occurring – by implementing redundant Internet connectivity, with the aid of your Austin IT support team at Gravity Systems.
The kind of redundancy we're talking about is known as a failover system. A failover system is configured to detect a loss in Internet connectivity, at which point it switches automatically from the primary Internet connection to a secondary Internet connection. This provides you with steady, consistent connectivity that lets your business keep going without missing a beat. If you can't afford to sit around waiting for the "cable guy" to fix whatever's wrong with your connection, then you sorely need this kind of safeguard.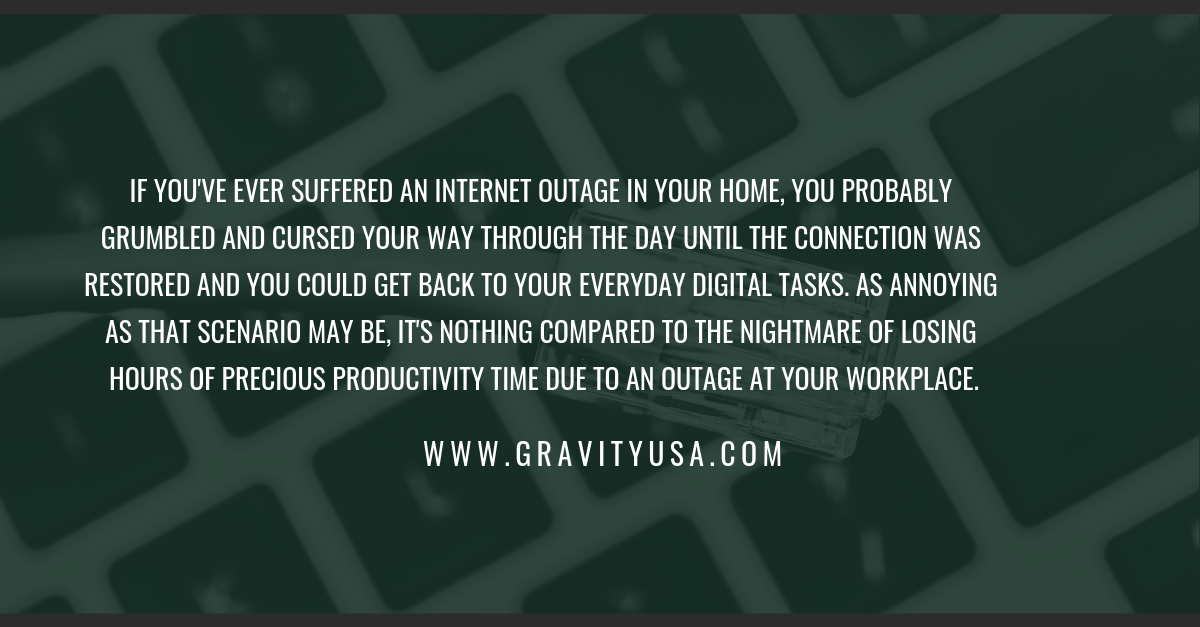 Gravity Systems can evaluate your current network and advise you on what kind of redundant setup makes the most sense for your needs. In some cases we may recommend, not just two different lines or two different providers, but also two different forms of connectivity, such as a fiber link backed up with a wireless or cable link. This can reduce the odds that more than one of your connections might be affected by the same incident. We can even create a sophisticated multi-level system that prioritizes connectivity for your most critical components and operations.
Are you ready to stay connected to the Internet 24/7? If so, connect with us so we can talk about installing redundant connectivity failsafes for your business!
Related Post:Memory Issues: RAM and System Performance