Sometimes just keeping track of all the moving parts in your IT system can feel like an overwhelming, never-ending scavenger hunt. Your employees are all using different, unrelated platforms and apps for their email, calendar and other productivity solutions. Meanwhile, your various branch offices are struggling to stay on the same page with each other. Fortunately, our Austin IT managed services team can straighten that mess out for you, thanks to our streamlined Gravity Office services. We can streamline your: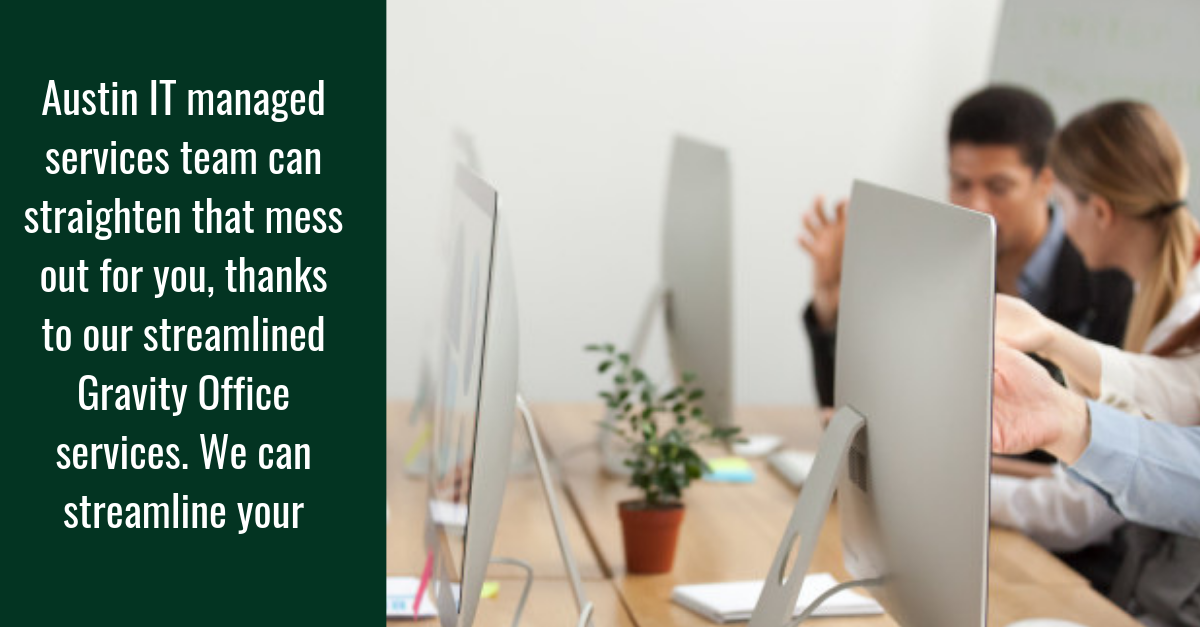 Email – The first thing you want to do is get all your employees' email accounts running under your company's official domain. Gravity Mail makes that transition quick and painless. Our advanced version also gives your workforce the tremendous benefit of synchronized, cross-platform email and calendar data sharing. Gravity Anti-Spam helps to filter malware and other junk for optimal security and efficiency.
GravityOffice – Have Gravity Systems host your own cloud, or become a part of our shared services clouds for increased collaboration and operating efficiency.
Gravity FileSync – Need a business-class file sync solution for your road warriors? Need a basic file sharing but are not ready for your first server? Gravity FileSync can help!
QuickBooks usage – QuickBooks is essential for countless organizations – but it can also be a pain to use across multiple offices and departments, especially since the online version is missing some important features. Our Gravity QuickBooks service gives you 100% QuickBooks functionality through our remoter server.
Ready to put it all together? Just give us a call and we'll make it happen!
Related Post: When Does Downsizing Your Network Hardware Make Sense?