For many businesses, a fresh year means a fresh start on success strategies, with a whole new set of goals, tactics and milestones to make the new year a memorable one. If you're planning on making 2019 a banner year for your company, maybe now is the perfect time to implement some improvements to your IT strategies as well. Consider these productivity-boosting changes:
Rethinking your network layout – Will your current network match up with your goals for a bigger, busier 2019? You may need to build out your system by adding Ethernet ports, routers, splitters, or even entire components. If you plan on adding offices, it's time we discussed those facilities and their needs with you so we can create robust, scaleable solutions.
Outsourcing – If your team will be busier than ever (but not necessarily any larger than it is now), then you may need to make the move to outsourced IT services. Our Austin IT managed services experts can free up those employees so they can focus on critical day-to-day activities while we take care of the network's ongoing needs.
Making sure your workers can work from anywhere – If you plan to have your key players traveling to new locations and spending more time in meetings, you'd better have a platform in place to make that possible. We can equip you with state-of-the-art cloud computing and mobile network capabilities to turn the whole planet into your team's workspace.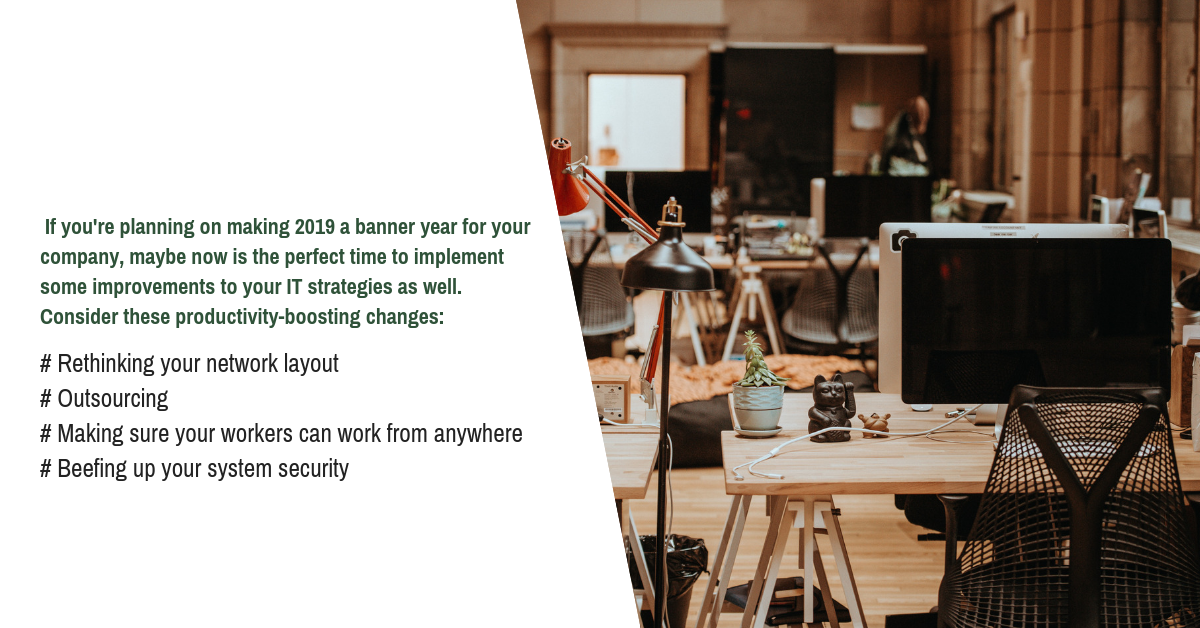 Beefing up your system security – the more secure your IT system is, the less downtime you'll encounter due to malware-induced slowdowns, reboots, troubleshooting and fixes (not to mention the horrifying prospect of massive data loss). Let's examine your firewall and other security safeguards.
Gravity Systems not only hopes you have an amazing year; we can actually help you achieve it. Contact us today!
Related Post: Are You Technologically Ready for a Working Vacation?