Apple's newest Macs come equipped with state-of-the-art M1 processors. As a "system on a chip" (SoC), the M1 integrates multiple processing functions into its eight cores, allowing a Mac's internal hardware components to interact with each other much more quickly and efficiently than before, using much less power along the way. Does this advance mean that you should drop your PC-based IT setup in favor of super-fast Macs or add these Macs to what you already have? Probably not.
Here at Gravity Systems, our Austin business IT support team has encountered a ton of compatibility problems with this latest generation of Macs. For starters, the ARM-based M1 doesn't support Boot Camp, making it impossible to boot into Windows as any Intel-based Mac could do. Unless you're really ready to ditch the Windows ecosystem and completely retool for MacOS, you'll find the M1 Macs simply can't play nice with your PC-oriented setup.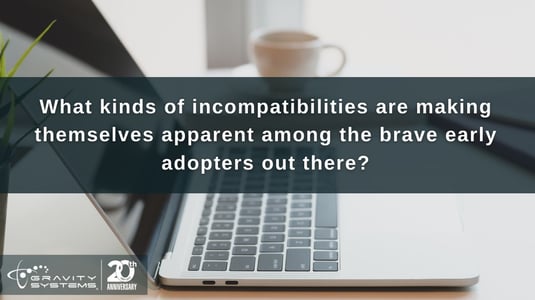 What kinds of incompatibilities are making themselves apparent among the brave early adopters out there? For starters, there's no update to make Microsoft Edge work on M1 hardware as of yet. People are complaining that Adobe Reader and Adobe DC won't install on
their M1 devices. If you want to use Microsoft Teams, you have to run it using Rosetta 2 emulation, which isn't exactly optimal for this platform. Google Backup & and Sync won't work
with M1 devices either.
Even if you already run an Apple-heavy IT system for whatever reason, you may find yourself running into frustrations. These machines aren't built to be user-serviceable, and procedures such as resets can actually brick them, forcing you to turn the affected hardware over to Apple service techs.
If you want fast, reliable, PC-friendly hardware that integrates easily with your existing system, contact our Gravity team for purchasing advice and installation!