We're starting to experience some cold snaps, not just in Central Texas but in other parts of the country as well. You might not expect to see icicles or snowbanks in your area -- but who knows what to expect as temperatures start to drop? This uncertainty can spell trouble for electronic equipment, including the technology that keeps your business going. Here's a quick look at some of the risks and issues you need to safeguard your IT department against, with the aid of our Austin IT support team at Gravity Systems.
Electrical surges and outages -- Your electrical system makes your IT system run, but it can also knock it out if cold weather leads to problems. Destruction of power lines and/or overloads caused by electrical heating demands can cause a sudden outage, leaving you with hardware damage, data loss and serious downtime. Vermin seeking warmth may chew their way into your walls, and therefore your electrical wiring. While you're scheduling that seasonal pest inspection, take the time to invest in some UPS (Uninterruptible Power Supply) units for your servers and workstations.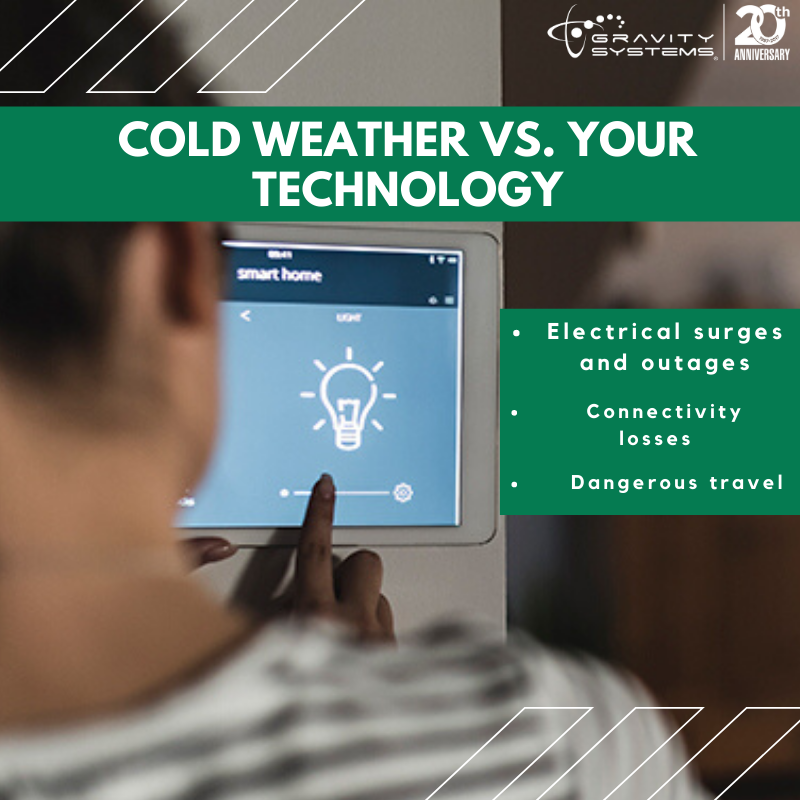 Connectivity losses -- Any connection relayed by cables can suffer damage in an ice storm or other cold-weather calamity (such as collateral damage from repairs to broken sewer pipes). That's one reason you can't depend on a single form or source of internet connectivity. We can set you up with redundant Internet connections using multiple providers to help ensure that you keep communicating.
Dangerous travel -- Sleet, slush, or "black ice" can make your employees' daily commutes unreasonably risky. Do your business a favor by offering remote desktop connectivity, cloud collaboration, and other forms of telecommuting. Sometimes staying home is the easiest way to stay productive!
Ready to come in from the cold? Contact us today, and let's weather-proof your technology!