What's your business's stored data worth to you? Would you have to close your enterprise down entirely in the event of catastrophic data loss? Many businesses would. Unfortunately, business data is constantly at risk from a variety of threats, from ransomware attacks and natural disasters to ordinary age-related disk failure. Regular, reliable data backup should be on the top of your IT priority list -- and online backup may prove especially valuable. Here are some of the reasons that our Austin IT managed services team recommends this safeguard:
Off-site storage: While it's always smart to have more than one on-site copy of your data on hand for emergencies, a burglary or fire could destroy that copy along with your source drive. Online backups are stored on a secure server in an entirely different location, allowing your data to survive any breach or damage your facility might encounter.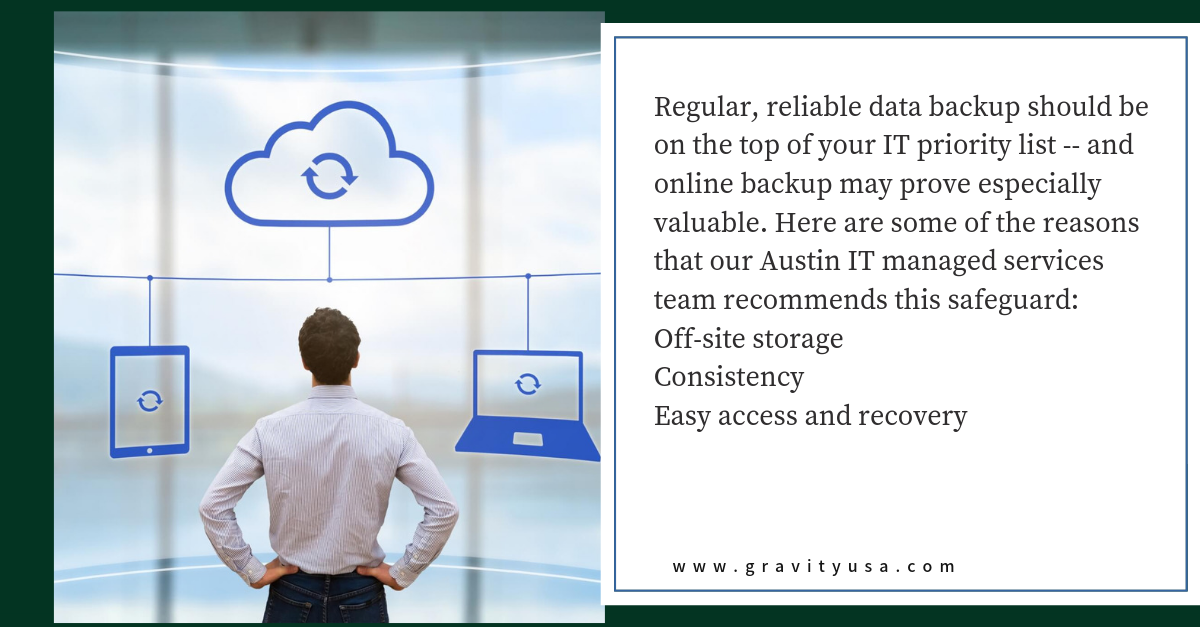 Consistency: When you use an automated online backup system such as Gravity Backup, you take the "human error" factor out of your backup routine. You can schedule your backups to occur automatically, at any hour of the day, any (or every) day of the year, and they'll always come off like likework.
Easy access and recovery: When you save your backups to a remote server, you can always access that latest backup (or any previous backups in your history) simply by downloading them from any computer. Even if you're on the other side of the world or your facility has gone up in flames, you can always login to Gravity Backup from a laptop and retrieve your precious data.
Gravity Backup offers automated, dependable data backup with 256-bit AES encryption to give you maximum peace of mind with minimal effort. Don't bet your company's future on your local drive storage -- trust Gravity Systems instead!
Related Post: Keeping Your Business's Cloud Secure