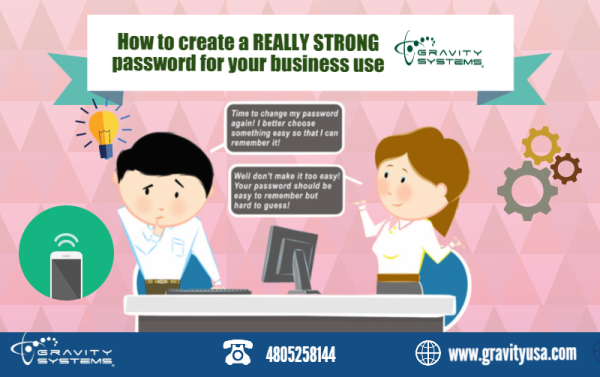 Are you all using the same passwords for all your PCs? Do you use same password for all your accounts just because you don't want to remember multiple passwords?
If the answer to these questions is yes, you may want to change your password strategy! If your password gets hacked for one account, hackersare now trying to access all your accounts using the same password. This can leave your business and personal data at risk. Password security is an important aspect of keeping your confidential data confidential.
Choosing a strong password seems easy, but does take some perseverance. Employees may find it difficult to figure out a password they could use when they create a new account that is strong enough to avoid hacking and still easy enough to remember. It's time to become a password guru! This blog will help you and your employees choose passwords that will help keep your confidential data safe.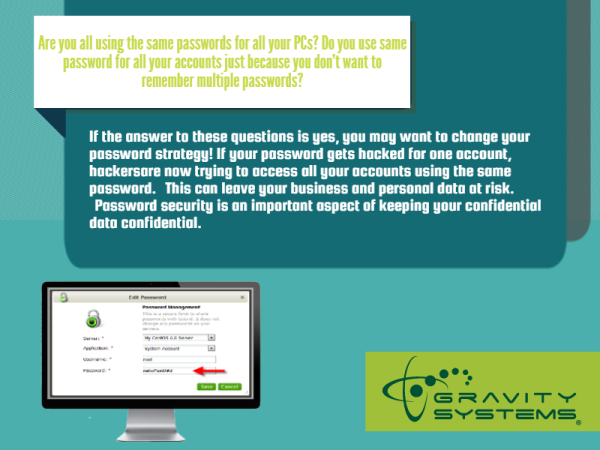 There are some basic rules for creating appropriate passwords. Most websites will guide you about such rules. In simple terms, a strong password is a combination of upper and lower case letters along with numerical and special characters.During your HR on-boarding, make sure you brief your employees about password security and require strong passwords on the network and for business related websites. Thankfully, many websites no longer allow you to create an account unless you have chosen a strong password.
When you are using numbers, do not use them in succession. '123' or '12345' is a very poor combination. Use numbers randomly. Also, do not use your home or office address; such passwords are very easy to crack.
Choose a password reminder tool. Many employees do not use complicated passwordsbecause they feel they can't remember the password when needed. With the new crop of password tools available, the focus can be on creating strong passwords, not remembering them. Tools such as LastPass are very helpful. Lastpass remembers all your passwords and also does security checks regularly to ensure that the websites that you are about to use are safe. If they are not, LastPass will warn you. It will also prompt you when it is recommended to change a particular password. Brief your employees about such tools and ensure that they use them instead of trying to use sticky notes on their monitor to remember their passwords!
Change your password regularly, at least once in every two months. This will give an extra layer of security.
Do not let your employees use a universal password. Encourage them to use a different password for each account they operate.
Beware of "phishing" emails and websites. Legitimate websites will never ask for your password via e-mail or phone. If you get an email asking you to update your password, do not click the links in that message. Instead, type the website into your browser and login from there. Also, be sure to make sure that important sites such as email and online banking sites are using SSL and that the certifies are valid. If you get an unexpected "certificate warning" message on one of the sites you frequent, close your browser and try again. If you still get it, try from a different computer or call your IT team.
Test your passwords before using them. Many online tools help you check the strength of your passwords; just be sure to obfuscate the real password by replacing a few characters!
Do not hesitate to choose a complex password. Almost all sites give you the option to reset the password via email or text if needed. Resetting a password is easy, and is less work than trying to recover from a hacked account. As there were some tips provided by a seo company in phoenix
We hope this blog encourages your employees to be more proactive in ensuring the security of your organization. For more such helpful details, read our other blogs or log on to www.gravityusa.com