Technology has become an integral part of every business. Most businesses rely very heavily on their IT infrastructure and can't fully function without it. The advancement in technological fields has made our work simpler, easier, and more accurate.
However, few businesses have expertise in using IT efficiently and to the full benefit of their company. Further, not every business has the desire or capability to keep up with the "latest and greatest" in technology, nor do they know how to get the most "bang for the buck". This does not mean that small and medium enterprises with smaller budgets should stick their head and the sand or chase the latest fads. Managed IT services are innovative, practical, and affordable solutions to the challenge of keeping up with IT and computer technology.
What is managed IT services?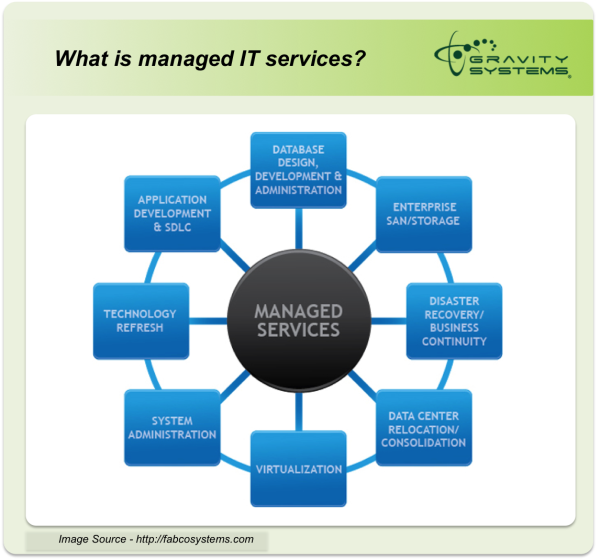 IT managed services are solutions where companies outsource a specific operation (IT) in order to focus on other aspects of their business and at the same time, cut down their cost while retaining or increasing the quality of IT support. Depending on their priority, companies may outsource HR operations, sales, marketing, supply chain management, data management, etc. These days, companies also prefer to outsource their IT operations to agencies who offer managed IT services.
From managing patches and software updates, minimising hardware failures and downtime, staying up to date with new technologies, to providing helpdesk support, there are a lot of things that your IT staff may have to deal with on a day-to-day basis. The level of skill and experience needed to efficiently handle these tasks is often high, which means you have to hire highly trained people for managing your IT infrastructure. Managed IT services are an affordable alternative to hiring a team of in-house IT workers. You get to "share" the cost burden of IT staff among other like-minded small businesses, and you don't have to pay for non-productive days, vacations, benefits, etc.
When you choose managed IT services, you typically outsource your entire IT operations to a company that offers such services. In this case, the service provider will take care of your entire IT infrastructure, ensuring that it is always up and working. Your IT partner will take care of the upgrades, data security, and other aspects so that you can focus on the core areas of your business.
Why are managed services a boon for small and medium business?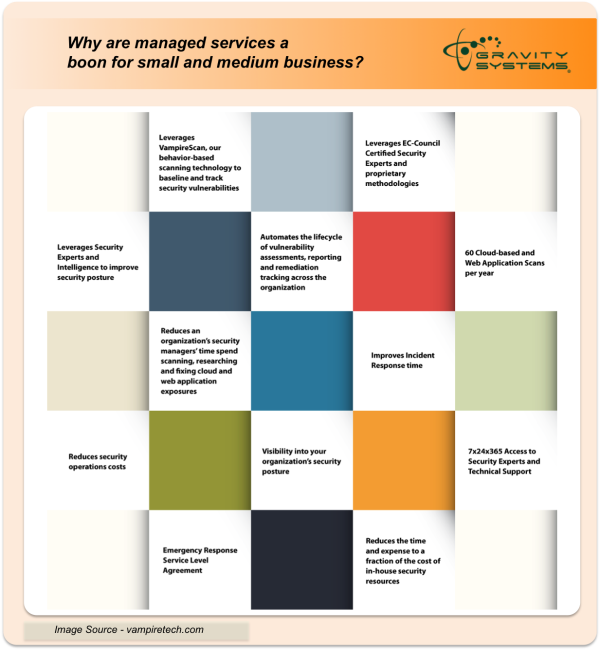 Cost reduction: This is a significant benefit that this form of IT services offers. You will not have to hire highly qualified people and pay them hefty salary. You will not have to bother with their vacation, insurance, bonuses, replacement, training, etc. The cost of managed IT services is typically much less than having an in-house team of technical experts.
Increased productivity: Reliable service providers such as Gravity Systems are available to handle breakdowns before they affect your productivity severely. We have experts who will be able to identify issues and rectify them before they affect your operations. Your in-house team may not have the tools or the bandwidth to do so. You also benefit from having other customers who have "been there, done that". You don't have to be the "test case", and you benefit from the shared knowledge and experience across a wide swath of industries and organizations.
Up to date services: Your in-house team may not be able to stay updated about the latest trends in the industry. We constantly analyse new technology AND thoroughly vet it before deploying into customer environments.
If you are interested in managed IT services, please contact us to learn more.