The backbone of every modern business is network services. To get extra capability and pressure along with the capacity to control requires some standard of network provision. There should be some provider's breed to give network services. So Gravity Systems's is that ideal network service provider who manages network services and who embrace everything which includes point-to-point connections to the designing of full network design. Their services like MPLS network services are such services that provides fundamental requirements of businesses which assures to their clients that their networks are not only just a piece of wires but they have much more worth than that.
The MPLS network services is that service provided by the Gravity Systems's in which voice services as well as feature rich data could be delivered. They have various connectivity options in which they includes ADSL Broadband services, leased line and high speed internet. These services are available for the customer to connect to MPLS core with high capacity which allows the company to host their own business applications within the network.
If a customer wants that he needs site to site connections then Gravity Systems's can provide magnificently and if an individual wants basic VPN then he can get it as well from them. If a client develops a solution provided by the Gravity Systems's network then they will provide you a conduit to the most complete suite of Austin data services and pay as you go managed voice which will be future-proofed for the use and also when there is right time to use. Their services save cost, enhance productivity, guarantee budget predictability and it help build activity and it not only stops here. In fact, their network is more than just a piece of wire.
BENEFITS OF OUR NETWORK SERVICES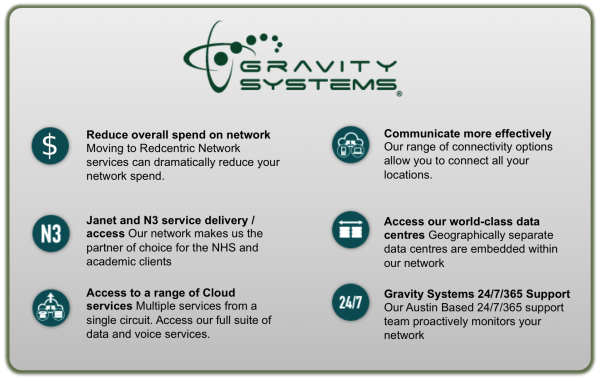 The benefits that distinguishes Gravity Systems's in their network services are they reduce the customer's spending on the network dramatically. The range of connection options they provide allows you to connect to all locations. They also have the access of client services which means that for the single circuit they have multiple services. Customers would have a full access to the data and voice services and much more than that.
WHY CHOOSE Gravity Systems?
So Gravity Systems's is the organization that understands current market. They offer the best technology to their customers as well as the expertise that develops a network which have the tendency to not only meet but also exceed the expectations of their customers. Hence, they provide the best services they can. Their network services are completely flexible to the requirements of the client. They offer one of the best advice and always with an open consultative approach. They always provides quality assured services to the clients and always fulfil the expectations of the clients and they are backed by the company leading service level agreements. Their services are really integrated. They provide full range of their network services and that includes connectivity options with full range, internet access, WAN and LAN services,N3 access and wireless LAN services and all other IT support Austin based services. This is proven by them by giving thousands of connections to the UK businesses like Ascot, CBI, Shoosmiths and Rasecourse and others. Their 10GB secure and elastic Austin MPLS is meshed in the region with ability to stands against other network breaks.