Managed services are useful in managing enterprises and employ multi-vendor environments to cut expresses, effective strategy implication, remain agile, and reduce risk. Modern CIO's are going through dilemma when it comes to catching up with the fast changing technology. With new technology, business priorities keep changing.

As the technology is moving forward, IT and communication projects are getting more complex than before. For completing these projects more money and resources are deployed. However, it is leading to increased expenses as the projects are taking longer time than planned, which is an added burden for business in every year.
All these problems can be managed and burden of CIO's can be reduced. Here are the five reasons why managed services are helpful for IT- businesses: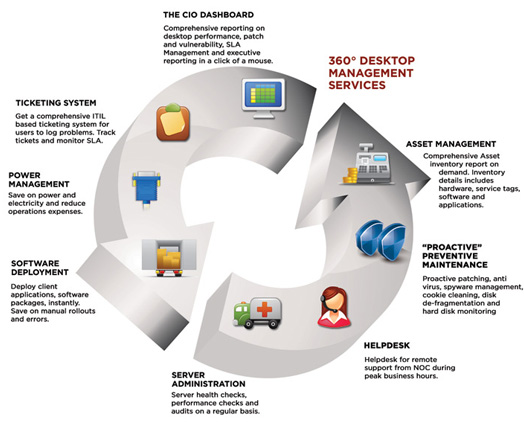 1) Effective management of multi-vendor and multi technology environments
Almost all business entities use single network for their voice and data communications. According to Frost and Sullivan, three quarters of the telephone systems used are IP telephone systems. This helps increases the demand of well performing networks to support complex business. Multi-vendor environments have gained popularity due to merger and acquisitions. Managed service can facilitate the skills and expertise of third parties for managing complex infrastructure.
2) Implementing new networks and technology
Managed services provide good up gradations when it comes to new generation of technology. Today service providers offered all services with in one business model. They take over all the contracts and management relating to the infrastructure of the business. Thus, allowing them to upgrade current infrastructure to new environment. All this is done with minimum cost.
3) Cutting down on non-strategic activities
The biggest reason why organization chooses managed services is to keep running the infrastructure with minimum cost and even less investment in upgrade strategies in communications. Managing a network for a business is expensive, local operating center is required, monitoring equipment are required and to run all this staff is necessary. All this reason alone will hamper the cost effectiveness of the network.
4) Agility to meet strategic business priorities
With staff and budget allocation for managing network infrastructures, managed service will help enterprise focus on planned strategies and business application. By employing internal IT support of the business for application development will, help enterprise to ensure that their focus remains on business needs. IT staff will be able to scale the services depending upon the needs of any business. Fulfilling simple seasonal demands like conference center at specific location during Christmas could be meet by the IT staff with the help of managed services quickly and efficiently.
5) Minimizing risks
Managing services can help enterprises understand the risk and reduce it. Managed service providers (MSP), use ITIL framework can make infrastructure support to proactive. This makes solving infrastructure issues even before they occur. However, if still problem arises, remote management tool must be in effect to get the infrastructure up and running before its effect is felt on the business. Optimization of infrastructure must be prime focus for the managed services.
Most of the companies form large to small scale uses IT Support now days. This is where GravityUSA- IT Support Austin comes in. Do contact us to know more about our services.