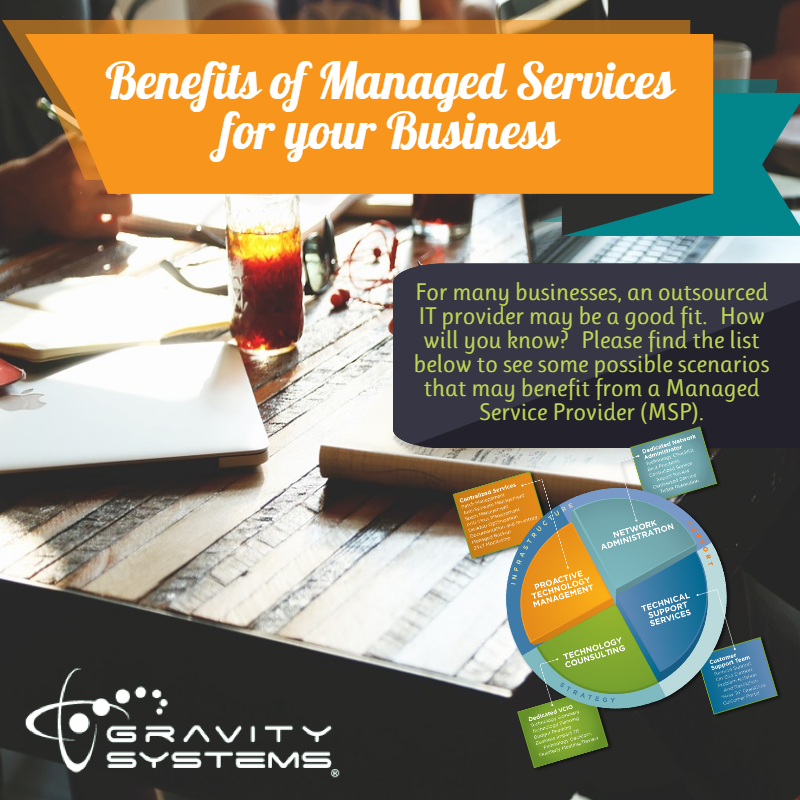 For many businesses, an outsourced IT provider may be a good fit. How will you know? Please find the list below to see some possible scenarios that may benefit from a Managed Service Provider (MSP).
Cutting IT cost and improving budget
The revenue outlay associated with internal IT operations can be minimized using Managed services. Instead of employing a team of people to take care of your needs, you pay to use part of an existing team of people. Often, this puts the resources of many more people (the entire MSP team) at your disposal for less than the cost of one in-house resource. Since your newly outsourced "IT Department" is scalable and flexible, you can pay for only what you need and feel secure that you can "burst" the available techs as needed.
Enhancing Security
Building a robust and reliable IT infrastructure is a requirement for almost all businesses. Managed IT services providers know what baseline security and reliability measures you need to have in place, and can consult with you on the unique needs of your business. Since MSPs have many customers, the chances are that they have "been there and done that" when it comes to solving your particular problem, both security-wise and in general.
Providing Flexibility
Managed services can adapt to changing business needs and climates. Perhaps you need a lot of support initially in order to get your IT plan off the ground, but will have moderate or minimal needs after that. A good MSP can do the heavy lifting to get the project completed and then easily scale back afterwards. This can be hard to do with internal IT staff, and can sometimes lead to having more in-house people than you need.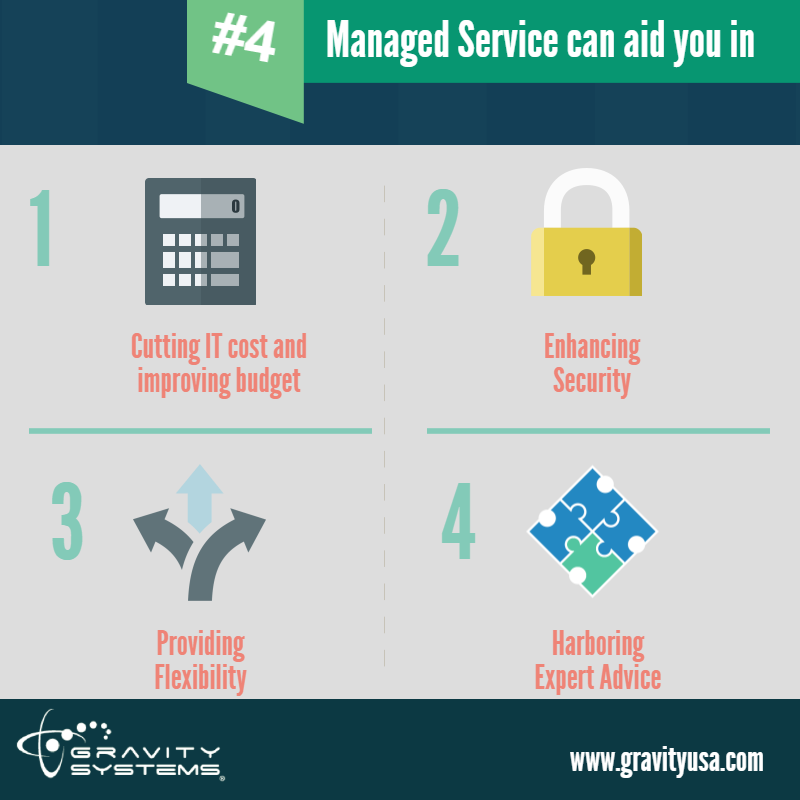 Providing
Expert Advice
Managed IT service helps a business skip the "learning curve" on complex projects. Perhaps an IT staffer has the desire required to do a project, but not the experience. It can be beneficial to have the outsourced provider do the project in order to bypass training and mistakes from a first time implementation. Managed service experts can get you in touch with the experienced techs that have the skills and experience to handle the job. MSPs can also augment internal IT staff and function as a backup in case the in-house staffer needs to be out. Even IT guys take vacation!
Developing IT strategy
Effective development and planning of IT strategy is possible with managed service providers. The provider works hand-in-hand with you to help meet your growth and business goals.
Supplying Needed Services
With an MSP taking matters in hand, your business gets on a regularly scheduled IT plan for maintenance and monitoring. As many threats are not discovered until "looked for", everyday monitoring activity of devices and applications is vital. In many In-House IT environments, IT professionals may be too busy with their tasks to keep up with maintaining the systems. This can expose the business, and its data, to unnecessary risk. Managed service provides custom solutions with backup, routine maintenance, antivirus updates, and other activities occurring on a regular basis.
Reducing Downtime problems
Although not every problem presents itself early, early detection of major problems is only possible when you are proactively looking. The monitoring and maintenance systems most MSPs use enable early detection of many potential threats and issues, from misbehaving software to a failing hard drive.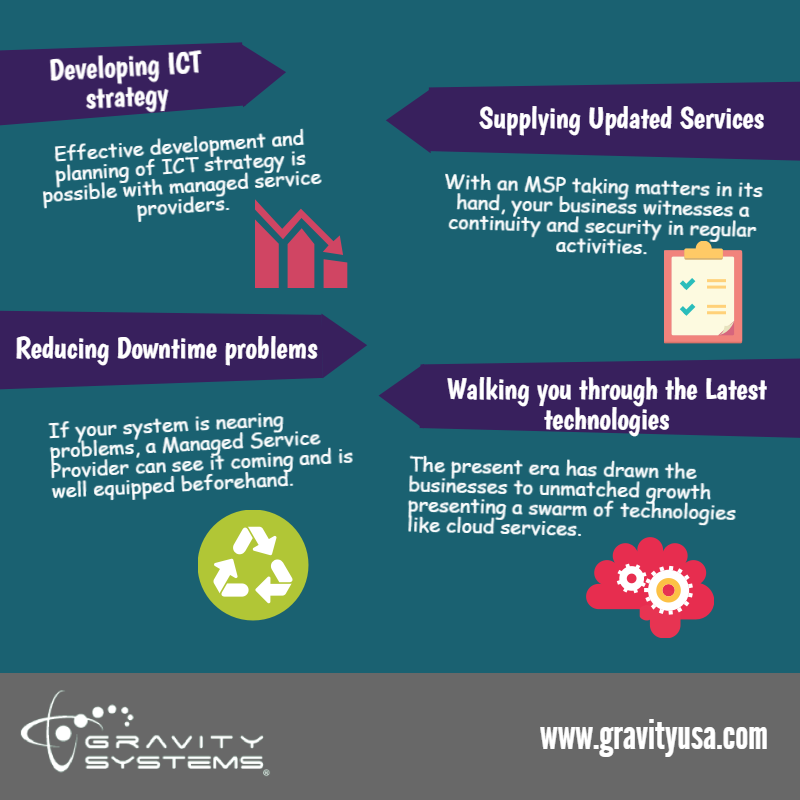 Helping with Important Technology Decisions
We are in an unpresented era of change in the IT landscape. With so many new and competing services, which horse should you hitch your cart to? You outsourced IT partner can help you chose the right technology for your needs, and one that works with the rest of your IT infrastructure.
Need Help?
Today If you feel that a MSP could help your business, please reach out to us at 877-get-gravity (877-438-4728) or contact us Today.