As a small business in Austin, you might not have the means to have your own in-house IT team. You do, however, have the ability to have a 3
rd
party IT team that acts as your own in-house team for a fraction of the cost and headache.
Are you thinking about choosing managed services for the first time? Considering ditching your current break-fix model for something more proactive? If so, let's walk through a few options and considerations.
What does "Managed Services" actually mean?
A managed service is all about outsourcing job responsibilities that can be handled "in-house" to a 3rd party. Strategically, this method is used for cutting down costs and enabling organizations to access more qualified specialists on a pay-as-you go basis. For example, many smaller organizations no longer keep legal staff in-house and instead outsource legal counsel to a preferred law firm. In the context of IT, managed services means an outside company helping your company meet its goals through technology.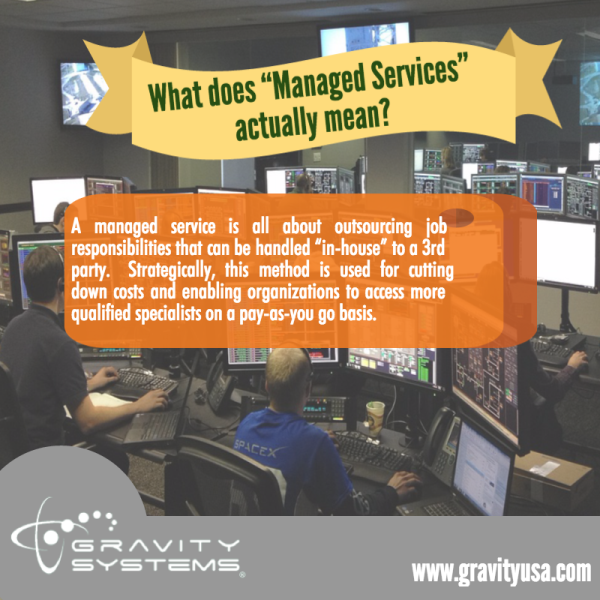 For small businesses, this usually means outsourcing all of your IT needs to a trusted partner so you can focus on running your business. We often see CEOs, business owners and office managers overwhelmed with trying to manage their own IT or manage in-house staff. Outsourcing eliminates much of the IT stress these people face, and allows them to have one centralised resource for their IT needs.
The Advantages of these Managed Services in Austin are:
Security:
Many small business owners don't know where to get started when it comes to securing their IT assets. A good managed services company can come in and implement "best practices" for securing your data and keeping computers safe from harm. Many companies with self-managed IT are unaware of the risks or the potential solutions to the security issues their computers face. An outsourced IT company can easily help identify weak spots and help improve the company security footprint. With the rise of malware, phishing and targeted attacks, it is important to deploy at least a base level of security on your business computer networks, and a managed service provider can help you do so.
Backup:
Do you have a good backup? How do you know? Have you tested it? A good managed services provider can help you answer these questions. Most good providers do routine and preventative maintenance, and this includes the backup systems.
Environmental Reasons:
Do you have more employees than space? Do you want to let some people work from home, either full time or part time? If so, an outsourced IT provider may be for you. Most providers have multiple avenues for getting work done out of the office. Good providers can also help you hook multiple offices together so everyone is on the same page. In addition, outsourcing IT models can actually reduce a company's carbon emissions, mainly by using cloud/Internet based services and enabling employees to work from home or closer to home. Lastly, customers operating in "dirty" environments may find help from a managed services provider who can help them move the computing aspect of their workflow from the factory floor to the server room.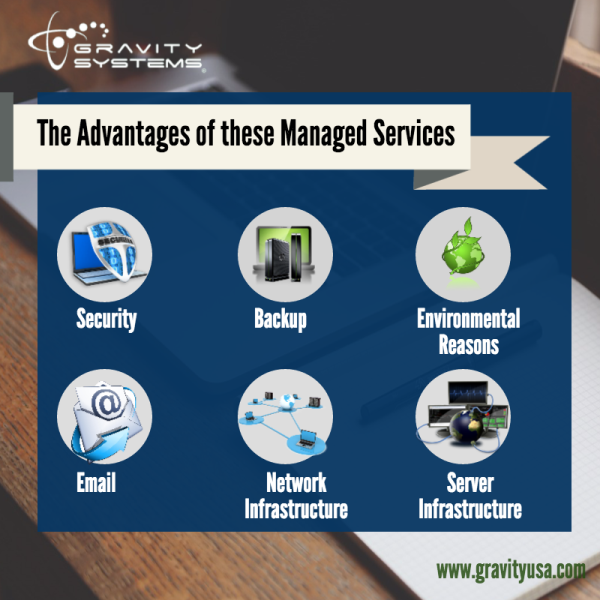 Email:
Personal email accounts don't work well for business purposes. Branded email services (yourname@yourdomain.com) are the solution. Managed service partners can help you find the right domain and setup your email in the best and most reliable manner. Note that many viruses and malware infections originate via email, so a provider who is well versed in email Antivirus and Antimalware solutions will help you stay protected.
Network Infrastructure:
Setting up a network correctly is important for businesses of all sizes. Since most devices in the workplace are now connected, it is paramount that those connections work and are secure. Your MSP can help design and implement a reliable solution that meets your needs. Need wireless? The right provider can help with that as well.
Server Infrastructure:
Servers (those large computers in the IT closet) make up the heart of IT, and your managed service provider can help design, build and implement the correct system for you. Companies typically start looking at "true" server solutions once they pass the five employee mark. The choices you make in the design of your first network can have long-lasting ramifications, so making sure you get it right the first time is advised. Your IT support company can help you find the right solution for your needs.
Even a small company can have the technological resources it needs to focus on continued growth and productivity. Gravity Systems has a proven of serving Austin's business technology needs since 1997. Whether you need ongoing technical support, quick and painless hardware or software installation, or powerful anti-spam and data backup solutions, Gravity Systems has you covered.