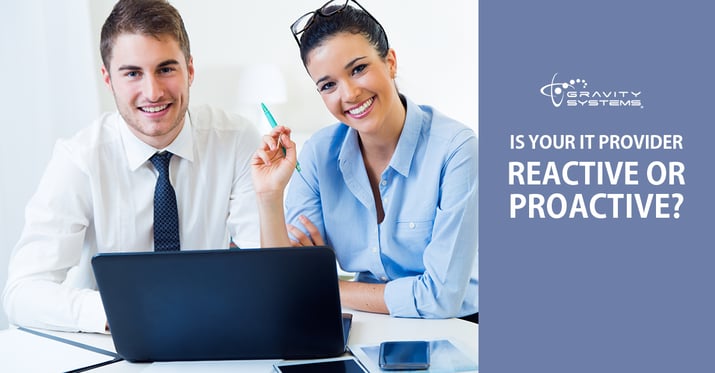 Imagine that you must select one of two options: Call the fire department as soon as you see your facility burning down, or take steps to prevent that fire from breaking out in the first place.
The latter choice would seem like the preferable one to most business owners – and yet they're content to let their IT systems grind their enterprises to a standstill until their IT providers set them right again. If you can't afford that kind of reactive approach, then it's time to switch to a protective one, with the aid of your Austin IT managed services team at Gravity Systems.
You might be impressed with your current IT provider's ability to fix things that go wrong in your network, hardware and software setups. But the downside to this way of handling technical problems is that, but the time your provider's on the job, you're already in trouble. The system has been down for minutes or even hours, allowing precious productivity (and potential revenue) to be frittered away. You'd better hope your technical team can actually get things up and running again, too, because the longer you wait, the deeper a hole your business gets itself into.
Here at Gravity Systems, we're more than happy to fix things that break, but we're even happier to prevent those breakages when possible by taking a proactive approach. Our IT managed services run quietly in the background, making software updates, backing up data, and ensuring that your system receives the necessary maintenance at all times. We can even keep an eye on your future needs and plan technology upgrades to keep your ahead of the curve.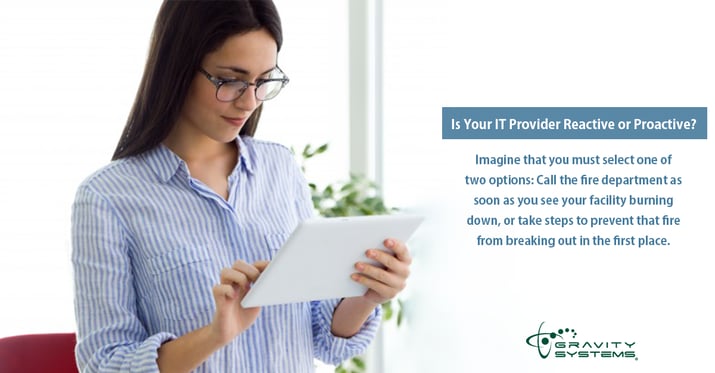 Don't settle for an IT provider that only fixes disasters after the fact. Call Gravity Systems and let's get proactive about your productivity!
Related Post: Mobile IT Productivity for Those Working Vacations