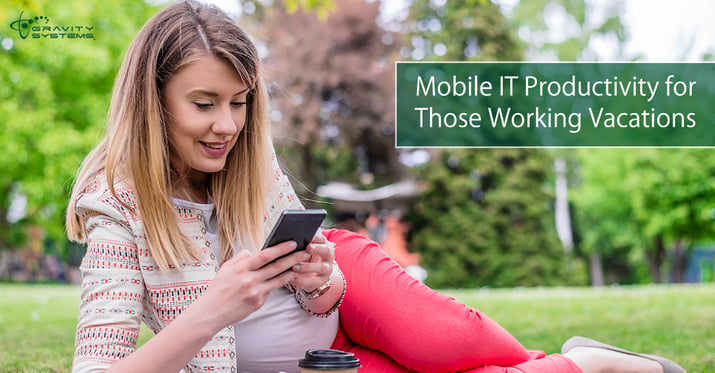 In an ideal world, even the busiest, most hardworking business owner or employee could disappear into a tropical paradise for summer vacation, holding a drink instead of a cellphone and watching a sunset instead of a computer screen.
But the reality is that many folks must take working vacations where productivity and relaxation occur side by side. But the right technical solutions can make that combination easier and more rewarding, thanks to mobile productivity options from our Austin IT managed services team. We can help you add the following tech to your team's working vacations:
Secure mobile access. Modern smartphones, tablets and notebooks let you take your work with you wherever wireless access is available. We can help you select and secure company-issued devices so you don't have to worry about how hacker-proof your employees' own devices are. We can even recommend specific productivity apps to help you stay productive on the go.
Cloud collaboration. You say that half your team is scattered around the world while the other half is laboring away at the central office until their own vacation days come up? That's no problem when you have a customized cloud computing setup from our IT managed services experts. We can create the perfect online collaborative work platform, optimized for your industry or projects and run through either your servers or ours.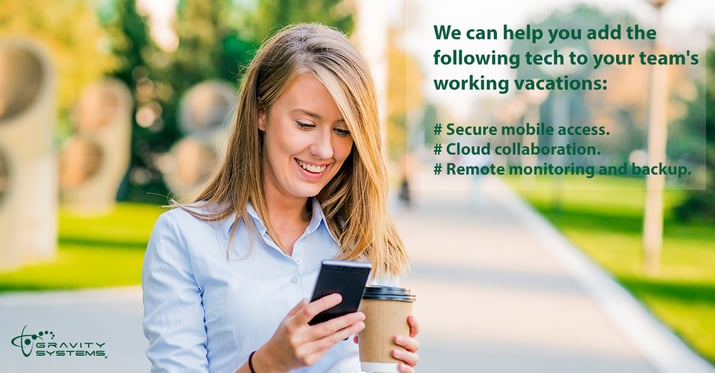 Remote monitoring and backup. Even your IT guy can take a well-earned vacation when Gravity Systems is backing him up – and backing up your company's data as well. Our off-site managed services can keep a careful eye on your servers, perform scheduled security updates, and run secure, thorough data backups on a regular basis.
Give yourself and your employees a break while still getting the job done. Contact Gravity Systems to get started!
Related Post: Sizzling Summers and IT: Is Your System Safe From the Heat?