Cloud computing is a very popular topic in today's business world. However, one subject that is often overlooked is how the various hybrid cloud computing models can add value to end users as well as to MSPs. For small business customers, the cloud may be an answer, THE answer, or part of the answer, depending on their needs and wishes.
Managed Service Providers must not restrict themselves to one cloud computing model, as some clients belong to more than one of the available categories according to their respective activities. For instance, a MSP specializing in data backup will have a client base that might not fit entirely in one of the two usual categories of public or private cloud. Some clients will need privacy and therefore will need a private cloud, when for others, a public cloud will be sufficient to fulfil their needs. This is why MSP's must adapt their cloud strategy according to their client base.
Is "Hybrid" part of your Cloud Strategy?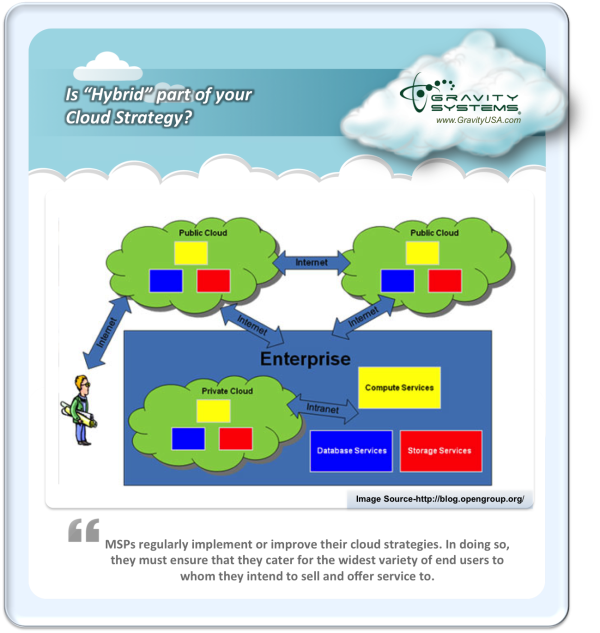 MSPs regularly implement or improve their cloud strategies. In doing so, they must ensure that they cater for the widest variety of end users to whom they intend to sell and offer service to. Selling, and servicing what you sell, are two sides of the same coin. When looking for a MSP partner, make sure to find someone who thoroughly vets the new technologies to make sure that they can be supported and that they will meet your goals. It is easy enough to "sell cloud", but the vast variety of cloud computing solutions available may make one particular solution better for the individual small business vs another solution.
This is why at the early stages of "the cloud", smart Managed System Providers were reluctant to advise their clients to use new cloud technologies without thorough testing and vetting. Clients who decide to start using a cloud solution on their own need to understand the various offers on the market before deciding on which system will best fulfil their needs. MSP's are there to guide them through their choice, and need to be able to offer a wide range of solutions. In the case of a cloud, these options are a mix of private and public.
How Do I Build a Hybrid Cloud?
Many things need to be taken into consideration to build a hybrid cloud. Like many things in "the cloud", "hybrid" might mean different things to different people. Typically, a hybrid cloud model means mixing some components of the public cloud with some internal cloud components. For example, Email may be hosted internally and backup stored on the public cloud.
MSPs, when designing a private cloud, have to ascertain certain facts such as how the end users will work with the proposed solution, what data will be stored and how, if any 3rd party restrictions are in play (HIPAA, PCI, etc) . In order to meet the goals for the new technology, both the MSP and client must partner in designing a solution that meets the needs of both parties. Sometimes, the cloud may NOT be a good fit for a company, and it takes a discovery session to find out. Often, customers think that the cloud will significantly lower their IT costs. This is sometimes the case, and often the case for certain technologies, but is not always the case. In fact, moving to the cloud is sometimes much more expensive, but still may be desired for accessibility or reliability reasons.
Because no one cloud solution is right for every customer, the pros and cons of the different solutions must be considered on an individual basis. As practitioners of both traditional computing and cloud computing, we can help you pick the solution that is right for you without bias one way or the other. Our experience and dedication will ensure that you receive the best IT support in Austin.