Many organisations overlook one of the most important tasks regarding their business computer systems: updating software and firmware. Some people believe that any sort of updating may cause conflicts and create more problems than they actually fix. They feel that "if the software is not broken, why fix it?".
Additionally, many companies do not have enough time or resources to keep up with updates on their various software and hardware. This often results in machines and devices being updated initially, and then never updated again.
Why is it important to keep your software up to date?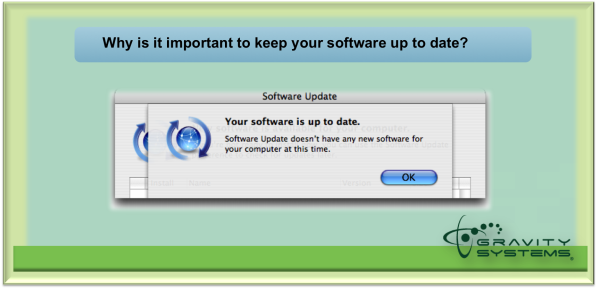 It is very important that all the recommended or "critical" software and hardware updates are applied on a regular and timely basis. Updates not only help fix bugs, but also protect against vulnerabilities that hackers take advantage of. These vulnerabilities, if left "open", may lead to exploitation of the company's data.
Some hardware devices (especially servers and firewalls) need regular updates to function effectively. If versions get too out of date and a call is placed to manufacturer customer support, the technician may not be able to proceed until the device is updated.
Firmware and software patch testing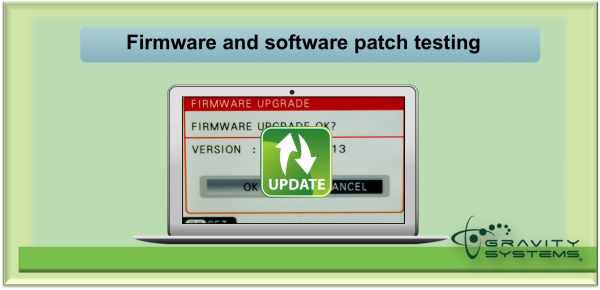 Problems can certainly arise with new versions of updates or new firmware, but your IT support company should be in a position to run tests against non-essential devices first. When using outsourced IT, you are benefiting by being one of a large group of devices being updated. If any issue arises during testing, the rollout should be delayed until the issue is fixed. Many firms, like ours, use an internal "whitelist" for patches to be deployed after they have been tested in a production environment. This delays the patching a little bit, but ensures that the updates have been tested. In the case of a "0 day" exploit that is highly virulent, most companies run a manual push of the critical patch.
Maintenance Schedules
Maintenance is essential for any device or computer. Your company should create schedules for this purpose, or contract with a company that can provide timely patching services. If not updated regularly, many devices will start to fail. Combined with a basic preventative maintenance routine, patching will help make your business run more smoothly. The IT support company you work with should be able to get you setup with a patching / maintenance system that works for your company.
Updating all the devices at the right time can be a tedious task, especially if you are doing the updates manually in-house. GravitySystems provides IT support solutions in Austin that cover this type of service and will keep all the devices and machines up to date without taking time away from your business. Our IT support plans in Austin are typically a good fit for companies that are tired of manual patching (or downtime associated without patching) and are are looking for a partner to help them take their IT to the next level.