Kerio Connect Sales & Support in Austin
To succeed in today's fast-paced global business environment, you've got to connect -- and that means ready, reliable access to your email, calendar events and tasks lists, no matter where you are or which platforms you use. In other words, you need Kerio Connect -- and Gravity Systems has it.
Kerio Connect packs a fistful of solutions into a single user-friendly, multi-platform application. Enjoy the ability to check, synchronize and modify your email, webmail and and calendar items from any location -- including your smartphone. Relax in the knowledge that your email is holding spam and viruses at bay. Archive your email to remain in compliance and protect your company against liabilities. Backup your data quickly and easily. Kerio Connect does it all!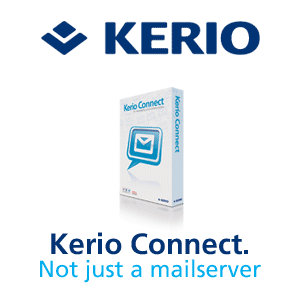 Cross-platform Collaboration
Nothing plays the groupware game better than Kerio Connect. Whether you're running Microsoft Outlook on your PC or Apple iCal and Microsoft Entourage on your Mac, you'll manage your email and calendar data with ease. CalDAV allows you to sync natively with iCal, and Kerio WebMail 's full-featured groupware accepts input from Internet Explorer, Firefox or Safari -- you may never bother with your old desktop programs again!
Wireless Mobile Synchronization
Do more on the go with Kerio Connect's wireless mobile synchronization features. Kerio Connect can push your email and calendar events out to smartphones in the field, including yours, ensuring that always have the latest information and can respond to anything that needs urgent attention. Sync from a Blackberry Enterprise Server to Blackberry devices, or between any devices equipped with Exchange ActiveSync. And if one of those devices gets lost or stolen, delete all that sensitive data remotely with Kerio Smart Wipe.
Robust Email Security
Increased connectivity offers more opportunities for spam, phishing, spoofing and virus attacks on your email, but don't worry -- Kerio already thought of that. That's why Kerio Connect's anti-spam protection employs more than 14 anti-spam layers to block up to 98% of unwanted emails. State-of-the-arts tools such as SpamAssassin, Spam Repellant, anti-phishing and anti-spoofing, a realtime blacklist server with custom blacklists and whitelists, SMTP restrictions, and the powerful Sophos anti-virus engine all work together to keep the malware away and your Inbox less cluttered.
Email Archiving
Protect your business by archiving for compliance. Kerio Connect can archive all your local incoming, outgoing and relayed emails according to the retention policies you set for each user. You can then search and sort through the archived emails to view any items you need. It's that easy!
Automated Backup
With Kerio Connect you'll never have to remember to backup your data again -- because Kerio Connect remembers it for you. Schedule regular automated backups that run unobtrusively in the background without grinding your mail server to a halt. You can even restore the contents and configurations of one server onto a different server or recover deleted data for individual users.
It's a Breeze to Run
Administering Kerio Connect is so convenient and easy to use that even the tiniest businesses can install, configure and run it without breaking a sweat. A single installer sets everything up within just a few minutes, and the Web Administration feature allows for secure remote administration from the browser of your choice. And Kerio Connect interacts flawlessly with POP, SMTP, IMAP, LDAP and HTTP services, so you never run into a "language barrier."
It Plays Well with Others
Kerio Connect deploys equally well across Windows, Mac and Linux operating systems and platforms. Deploy it from a server or from a desktop. Use Distributed Domain to enable all of your Kerio Connect Servers, wherever they may be, to manage a single email domain. Authenticate users through the Kerio user directory, Active Directory or Open Directory. Kerio Connect gives you more choices -- and that means more connectivity.
If you'd like to learn more about the many virtues of Kerio Connect, make a connection with Gravity Systems today. We can help your company keep in touch with your world!