Kerio Connect - Gravity Systems Houston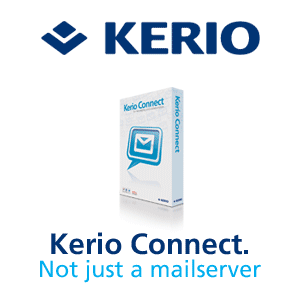 The modern business world is all about staying informed and up to date -- and to achieve that, each and every one of your employees must have ready, reliable access to the latest emails, calendar events and task lists, from wherever they may be or whatever data device they may be using. That kind of synchronization calls for a professional solution, and Gravity Systems Houston has that solution for you. It's Kerio Connect.
Kerio Connect brings a wealth of data access and security solutions together into one easy-to-use, Web-based program that handshakes with a variety of platforms and systems. Now you and your employees can view, modify and send email and calendar information from any Web-enabled desktop, laptop or mobile device. Kerio Connect safeguards that information by employing cutting edge anti-spam and anti-malware protection while also performing automated backups and archiving.
Cross-platform Collaboration
Kerio Connect tears down the boundaries between platforms and programs. Synchronize all your data updates from all your favorite email and calendar applications, including Microsoft Outlook, Entourage for the Mac, Apple Address Book or others. You also get native sync with iCal through the use of CalDAV. View it all through Kerio WebMail via your Internet Explorer, Safari or Firefox browser -- you may even end up scrapping your old desktop-bound applications for Kerio's groupware options.
Wireless Mobile Synchronization
Kerio Connect keeps all your people on the same page, even out in the field, with its wireless mobile synchronization feature. It pushes each new email and every new calendar updates out to your smartphone, so you never miss the breaking news on that big project or deal. You can sync to your Blackberry from a Blackberry Enterprise Server or push data to other types of smartphones with Exchange ActiveSync. You can even delete all the sensitive information from a smartphone if it falls into the wrong hands by using the Kerio Smart Wipe feature.
Robust Email Security
You don't have to worry about such common yet potentially hazardous annoyances as spam, spoofing, phishing and viruses when you have Kerio Connect watching out for you. Kerio Connect's advanced anti-spam filters include 14 layers of filtering to stop up to 98 percent of all undesirable or suspicious email. And Spam Repellant keeps 80 percent of it from even making it to the server, saving valuable disk space. You also get anti-spoofing and anti-phishing protection, custom blacklists and whitelists on a real-time blacklist server, SMTP restrictions, and the Sophos anti-virus engine all working in unison to protect your company from the bad guys.
Email Archiving
Need to protect your business by archiving email for compliance and governance purposes? Kerio Connect can make it an automatic process. The program archives your incoming, outgoing and relayed emails for each user according to the retention policies you set. Searching and sorting through archived email is a snap -- you can always produce the documentation you need, when you need it.
Automated Backup
If you can never remember to backup your critical email and calendar data, just let Kerio connect back it up automatically! You can set up regular automated backups for any convenient time, night or day -- they run as background activity on the server, ensuring that your day-to-day data processes won't be hobbled in the least. Use the data recovery feature to "un-delete" deleted files, or restore an entire server's data and configurations on a completely different server.
Easy to Set Up and Administer
Kerio Connect is a great choice for even a very small business with minimal IT resources on hand. You can set the entire program up in a matter of minutes with one easy installer application. Monitor and control the program over the Internet via the secure Web Administration feature. And rest assured that Kerio Connect knows how to talk to all the common data protocols such as SMTP, POP, IMAP, HTTP and LDAP for maximum compatibility and smooth performance.
Easy to Deploy
You can deploy Kerio Connect from a desktop or server across Windows, Linux or Mac systems and platforms. You can also manage a single email domain from multiple Kerio connect servers -- from multiple sites -- through the program's Distributed Domain feature. Use authentication is easy whether you choose to implement it through the Kerio user directory, Active Directory or Open Directory.
Kerio Connect can keep your business more connected than ever, and a more connected business is a more productive business. Contact Gravity Systems Houston to make your own connection today!