Whatever line of work you're in, you know how hard it is to attract the brightest prospects to your profession or industry. The more competitive your field, the more attractive your organization must appear in order to draw tomorrow's leaders to your interview table. Here at Gravity Systems, our Austin IT support team can think of one major benefit you can offer, one that's easier to set up than you might think: the opportunity to work remotely, through the magic of today's digital technologies.
Remote work can take a variety of forms. It might include cloud-based conferencing and work collaboration platforms, remote desktop capabilities, flexible work hours combined with work-from-home hours, or even a permanent remote-work opportunity for someone in another part of the world. These benefits can prove enormously attractive to:
New moms who want to keep working while also keeping an eye on the baby
Employees with physical disabilities who might find a commute impractical
Candidates in other cities, states, or countries who would prefer not to disrupt their lives with a long-distance relocation
Locally-based candidates who are just plain sick of bumper-to-bumper traffic and lengthy commute times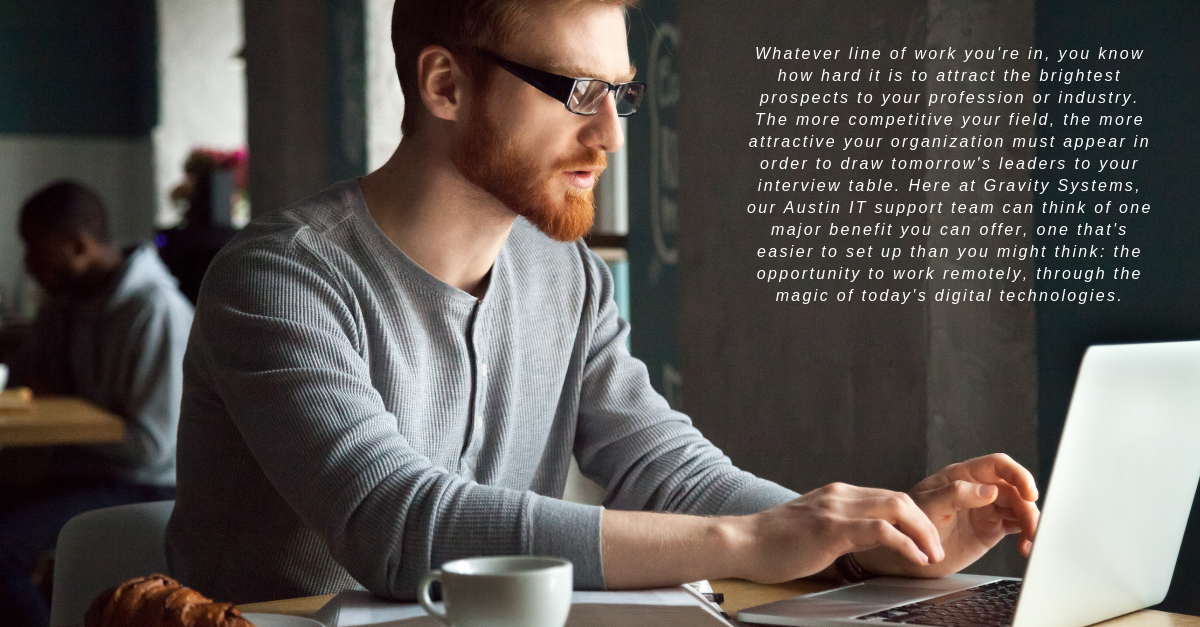 Offering the benefit of remote work doesn't just help you attract the starriest new talent; it can also help you retain the talent you have. When you provide this benefit and your leading competitors don't, it's easier to keep valued team members from jumping ship. It also allows older employees to transition into retirement more gradually by performing a reduced workload from home. (In fact, workers 65 and over telecommute at a higher rate than any other age group.)
Ready to excite the working world by offering remote work options at your business? Gravity Systems can get it all set up for you. Contact us today!
Related Post: Why You Need Two-Factor Authentication