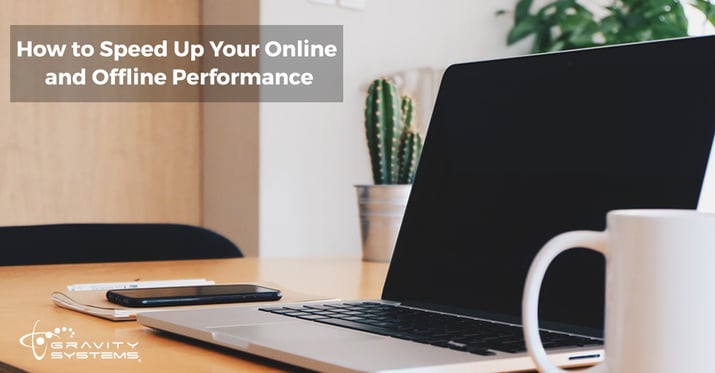 You knew you'd need technological efficiency when you created your company, so you made sure you had an IT staff to keep that aspect of your everyday productivity rolling. But then was then, and this is now, and suddenly it appears that your technology isn't rolling quite so effortlessly anymore.
Fortunately, you don't have to replace your current IT team or put several more staffers on your monthly payroll – not when you have Gravity Systems' in-house IT department providing expert assistance as needed.
There are plenty of reasons you might need to augment your in-house IT staff. Perhaps you started out with just one or two techs only to mushroom into a much larger enterprise, with multiple employees who require technological access, assistance and monitoring. Maybe the nature of your work has grown more dependent on advanced technologies such as streaming multimedia, remote access or proprietary applications that require specialized IT knowledge and regular troubleshooting. Or maybe your techs are skilled at running an existing network but not so experienced at designing a new one. These are all strong indicators that you could use an extra set of hands – ours!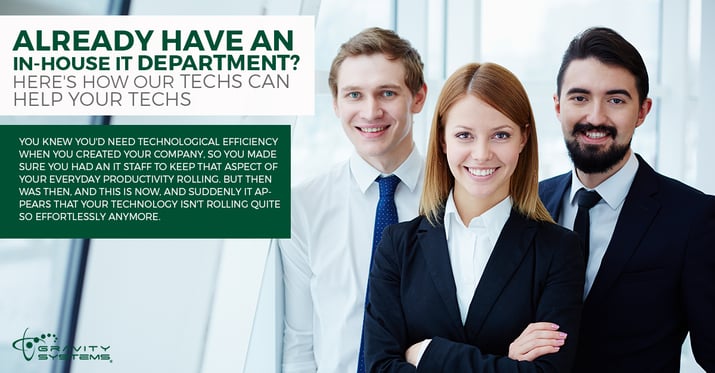 Our in-house IT services division can interface seamlessly with your existing IT team without stepping on anybody's toes (or egos). You can bring in just the right amount of help of suit your organization's needs, size and budget. Our Austin IT business services team can take care of your end-user help tickets, select the right hardware products and connectivity services for your expanding enterprise, and take all those little time-consuming yet necessary tasks such as software upgrades and security patches off your plate. This gives your IT staff more freedom to run the show instead of running around putting out fires.
We all need a little help sometimes. Get yours from Gravity Systems!
Related Post: Plugging Up Those Email and Data Leaks