Kerio Control Protects Your Business Computer Network
Does your company have a reliable virtual private network capable of connecting multiple branch offices or locations? Do you need to know that your network is protected against viruses? Do you need the ability to track user behavior to make sure your network is being used safely, legally and productively? Then you need Kerio Control.
Kerio Control is an integrated network hardware/software system that can be configured to work with either Windows or Mac networks. Choose from control boxes with 20-user or 40-user capability, and then add virtual user licenses as needed. Enjoy optimal uptime and maximum peace of mind with this ISCA-certified product offered through Gravity Systems!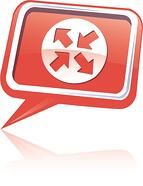 User Management
Monitor, track and control access to your company's data network with Kerio Control's superior user management capabilities. Kerio Control's advanced network analysis and reporting delivers detailed stats and reports on who's using your network and what they're up to, viewable from any web browser. If someone is misusing your IT system, leaving you open to legal liabilities, security risks or lost productivity, you'll see it right away so you can put a stop to it.
Transparent mapping of users from Active Directory and Open Directory.
User-specific access policies.
Forced user authentication for network access.
User-based network activity reports.
Unified Threat Managemen

t
Say good bye to viruses, spyware, drive-by downloads, Trojans, and the bad guys who use them to damage companies just like yours. Kerio Control's intrusion prevention system transparently monitors and maps user behaviors such as inbound and outbound communication. The Kerio Web Filter blocks more than 53 types of suspicious web content while also blocking users from trying accessing sites known for carrying such content. The powerful Sophos anti-virus engine, powered by multicore processors and other high-octane configurations, protects your gateways in real time, and continually keeps itself updated.
Integrated gateway anti-virus, web filter, P2P networks filter, intrusion prevention system, file-type blocker, flexible keyword and web object filter.
VPN
Kerio Control's VPN (Virtual Private Network) features allow you to consolidate multiple office networks into one super-productive superhighway. Build as many site-to-site or client-to-site channels as you want, regardless of what platforms the various endpoints are using. Set up persistent modes or on-demand modes to suit your needs. The use of such standard encryption algorithms as Secure Socket Layer for the control channel and Blowfish for the data transport ensures compatibility and flexibility. Oh, and don't worry about viruses either – Kerio Control's integrated anti-virus component keeps a watchful eye on any potential bugs running along the VPN.
Multiple site-to-site and client-to-site VPN tunnels.
Prevent simultaneous editing of a shared file.
Includes a cross-platform VPN client for Windows, Mac, and Linux.
Quality of Service
A network isn't a network without consistent uptime – another area in which Kerio Control shines. Its "smart" bandwidth management knows how to guarantee maximum bandwidth for high-priority traffic by restricting bandwidth for the lower-priority traffic. You can create different sets of rules depending on the suer or group, the protocol, the DSCP value or other defined parameters. Realtime traffic charts show you exactly how your network traffic is flowing. Automatic link-load balancing keeps multiple connections running like a champ, while active/active or active/passive failover keeps your uptime, well, up.
Multi-port active/active and active/passive configurations with automatic connection failover and link load balancing.
Bandwidth Management easily reserves and caps bandwidth for specific network traffic types.
See comments organised by Space and Page
Don't leave your business's network vulnerable to crashes, poor internal use or hostile takeovers. Take control – Kerio Control. Contact Gravity Systems today to find out how!