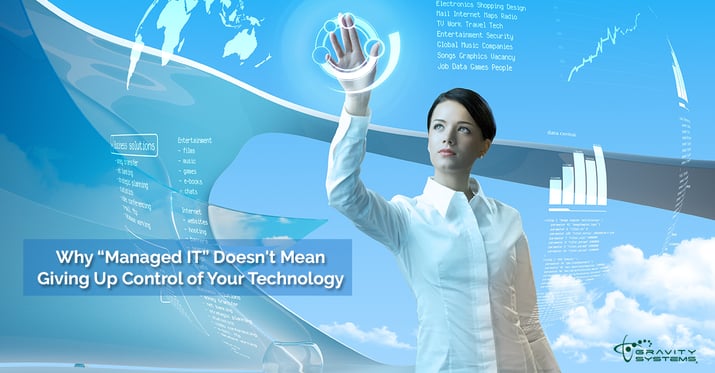 If you know anything about Gravity Systems, you probably know that we're a leading provider of managed IT services in Austin, TX. But what exactly does "managed services" mean – and how much autonomy over your IT systems and staff do you have to give up when engaging our expert team to handle everyday tasks? If you've been hesitant to look into this type of IT care, you'll be delighted to learn that your IT department can reap enormous benefits from it – while still remaining very much your IT department.
For many small companies that can't carry an IT department on their payroll, managed IT is the only practical solution for addressing glitches, refreshing hardware/software and keeping precious data secure. But it's only natural for an existing IT department to get a little nervous about the prospect of adding managed IT services to the mix. Some staffers might wonder if their job security is on the line, while IT directors worry about key functions escaping their oversight.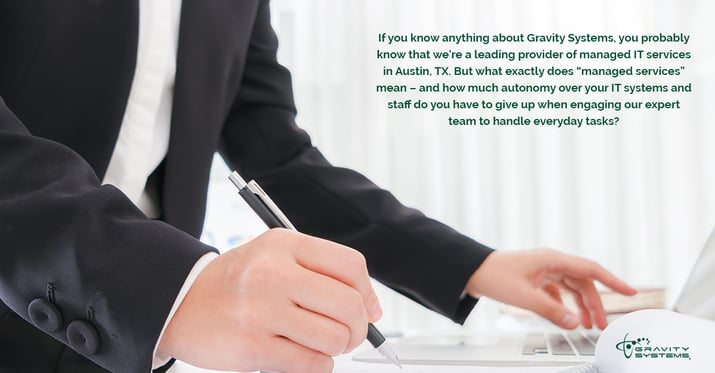 But engaging a managed IT provider could be the best thing that ever happened to your in-house team. Think about the daily fires your IT staff are already putting out, from the infamous "user errors" to swapping out glitchy cables and configuring workstations for new employees. Outsourcing tedious backups and updates, acute emergencies and major additional projects allows them to keep on top of everyday tasks. And our skilled professionals know how to communicate with your department so everyone is on the same page at all times.
Don't be a control freak where the day-to-day quality, efficiency, security and productivity of your business is concerned. Delegate the dirty work to Gravity Systems, and put your hardworking staff to the best possible use on other things. They'll thank you for it – and you'll be thanking us!
Related Post >> Don't Let the Bad Guys Hold Your Data for Ransom