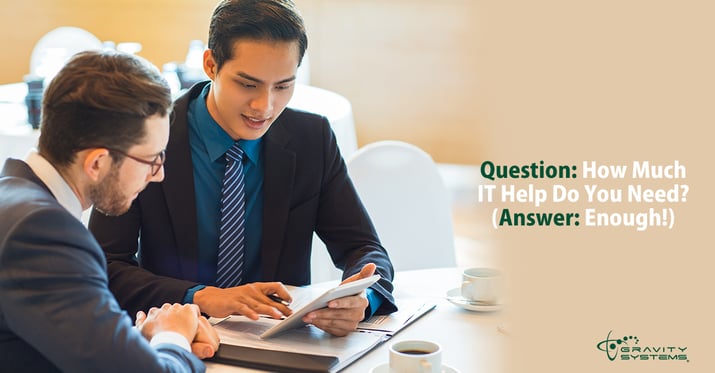 It's an all too common a scenario for many small business owners. You've just reached the stage where you've rented commercial space, hired some employees, and begun making use of an IT network of sorts. But since your technical needs seem so minimal right now, you're making do with the occasional call to a freelance "nerd," part-time tinkerer, or your best friend's precocious tech-minded teenager for IT setup and assistance.
Unfortunately, you may soon find out the hard way that "enough" isn't nearly enough. For starters, that occasional or part-time professional only receives the summons to your office when something has gone drastically wrong. This means that:
A) He can't maintain any consistent familiarity with your systems and processes, so he's always pretty much starting from zero, knowledge-wise.
B) Many of the fires he's being called in to extinguish may already be too complex and far gone for his skill and experience level.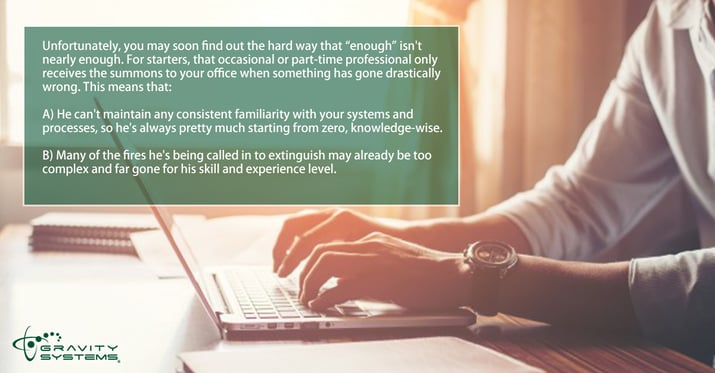 As for that young prodigy getting his first taste of the IT world on your network, any money you save by not hiring an experienced professional may quickly be offset by the extra downtime of allowing said prodigy to learn on the job. Even worse, he may end up way over his head and even throw additional complications into an existing problem – with no clear understanding of what he did wrong or how to reverse it.
You don't have to cut these kinds of corners when you engage Gravity Systems to handle your young company's IT needs. That's because we're perfectly willing to scale our services to your needs and budget, growing as you grow to ensure that you always have the right level of high-quality Austin business IT support. So start from strength with IT that works – contact Gravity Systems today!
Related Post: Talking It Through: The Value of Phone Support