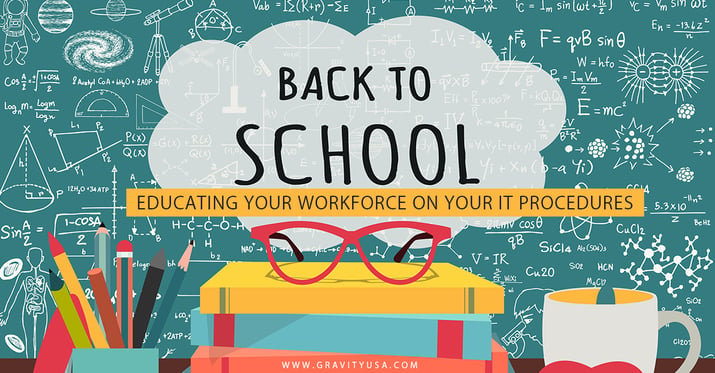 August is "back to school" time for countless parents helping their kids get ready to enter that next grade of education. But in the business world, training and education is a year-round thing. Let's look at a couple of major areas in which you can help your team get schooled on your tech.
IT Policy Awareness: It goes without saying that you have to have clear, practical IT policies on such issues as employee Internet usage, document security and storage, social media practices, disaster recovery procedures and technology standards. But you also have to make certain this information ends up in front of your new people. Posting the information on an Intranet page, emailing digital copies to all hands, placing hardcopies on every desk, and giving presentations on the subject will help you educate your employees on this critical information.
IT Training: Training in your current software, hardware and networking systems may be equally beneficial both to new recruits and to seasoned veterans who must get up to speed on any changes. Online training modules for specific programs or application suites may already be widely available for viewing – our you can create and upload your own. If entire departments need to be educated, choose team leaders and train them first so they can disseminate their knowledge to the team members.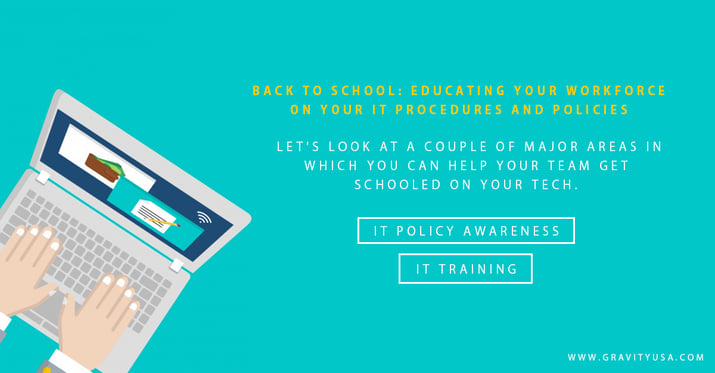 Don't forget that Gravity Systems can make this "back to school" process a lot easier for everyone involved. We can play a vital role right from the beginning in helping you choose which changes or upgrades you may need to make, educating you and your team leaders on how to implement them. We can then stay on the hook with phone support, remote troubleshooting and on-site assistance as needed. Learning is indeed fundamental – and our Austin tech support team is ready to help!
Related Post: Holding Onto an Outmoded OS Just for One Program? Bad Idea!